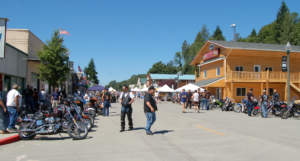 Saturday, July 23, 2011
9:00 a.m. – 4:00 p.m.
You can be sure it's summer when there's dancing in the streets! On Saturday, July 23, the Cement City Street Fair in Concrete will feature everything from a Zumba demonstration and a motorcycle show to poetry reading and blood pressure screenings. Sponsored by United General Hospital, in collaboration with the Concrete Chamber of Commerce and local businesses, the fourth annual street fair is designed to bring healthy family fun to eastern Skagit County.
"It's our way of reaching out and working with the community," explains Nicole Paterson, communications assistant at United General. "We always look forward to bringing health screenings and resources to Concrete."
The street fair kicks off with the Cinder Shins 5k Fun Run at 8:00 a.m., sponsored by Concrete Herald, meeting at the Town Sign. Following the run, you can watch or join in a Zumba demonstration (a fitness program that features world music) presented by Encore Fitness in front of the Concrete Theatre.
The motorcycle show is sponsored by Eagles in Flight and is open to bikes of all makes and models, with check-in required by noon and judging taking place at 1:00 p.m.
Main Street will be lined with arts and crafts booths, and families can also enjoy a children's activity area that includes games and crafts. Volunteers are needed in this area. Please let us know if you can assist!
Live music on the street will be provided by local performer Dave Chapman at 10:00 a.m., "Detour," a country swing band from Tacoma at 11:30 a.m., and well-known singer Marcia Kester from Mount Vernon at 1:00 p.m. Radio station KSVU 90.1 FM will be broadcasting from the event and will provide information about its new on-air programming and volunteer opportunities.
Activities will also be held at the Concrete Theatre throughout the day, including free tours, cartoons, and a series of rare motorcycle film footage in a locally produced documentary titled, "Motorcycles: the Good, the Bad and the Custom."
Also featured at the Concrete Theatre is the third annual Cement City Poetry & Music Festival, from 1:30 to 3:00 p.m., with regional poets and performers, including: Dick Harris, Sam Osteen, Cate Perry, Bill Jordan, Stephany Vogel, and Jason Miller.
Vendor Application Form
Motorcycle Registration Form
For more information about the event, please contact events@unitedgeneral.org or (360) 856-7662.