Concrete Center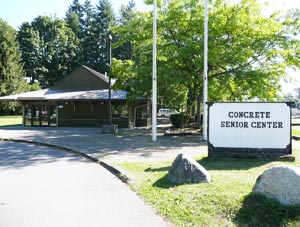 SKAGIT EAGLE FESTIVAL INFORMATION STATION
Every Saturday and Sunday in January, the CONCRETE CENTER is the home of the Skagit Eagle Festival Information Station, open from 9:00 a.m. to 4:00 p.m. During the annual festival, plan to stop at the CONCRETE CENTER for:
Arts & Crafts
Skagit Eagle Festival Souvenirs
Maps, Directions, Information
Clean Public Restrooms
Coffee & Conversation
Raptor Raffle Tickets
For Skagit Eagle Festival information, contact the Concrete Chamber of Commerce: (360) 853-8784, or Skagit Eagle Festival Organizer, Valerie Stafford, by email.
The Concrete Chamber of Commerce meets here on the second Thursday of each month at 8:00 a.m.
The Concrete Center is the meeting place of our community's Senior Center, and the venue for a variety of local meetings and events throughout the year. For Senior Center information, see Sara Pritchard, below.
Phone: Weekdays: (360) 853-8400
Email:
sarap@co.skagit.wa.us
Contact Person: Sara Pritchard, Senior Center Coordinator
Address: 45821 Railroad Ave Concrete, WA 98237
Concrete, WA 98237