Skagit Eagle Festival
The Skagit Eagle Festival is a month-long celebration during eagle-watching season in eastern Skagit County. Activities take place in Concrete, Rockport and Marblemount every full weekend in January.
The festival features a variety of free tours, walks, and educational programs where you'll learn not only about these majestic birds, but also about a variety of wildlife and the beautiful areas along the Skagit River where they live or return each year.
Special presentations will teach you about a year in the life of an eagle, how to photograph wildlife and scenery, and much more. You and your family will have the opportunity to enjoy arts & crafts, wine tasting, river rafting, music, dance and a wide variety of other outdoor and indoor activities. Bring your camera, dress for unpredictable winter weather, and come join us for one of the most uplifting and entertaining events of the year!
HOW TO PLAN
1. Choose a weekend that's most convenient for you.
2. Check out the activities for that weekend, below.
3. Reserve your lodging, if you plan to spend a night or two.
4. Get ready for a great time, at your own pace!
Click here to see the list of activities that take place more than once in January.
Click here for the special one-time or one-weekend only events during January.
Please note that some activities are repeated each weekend, on both Saturday and Sunday; other events are one-time only, offered on a Saturday and/or Sunday during specific weekends.
Please contact us with questions.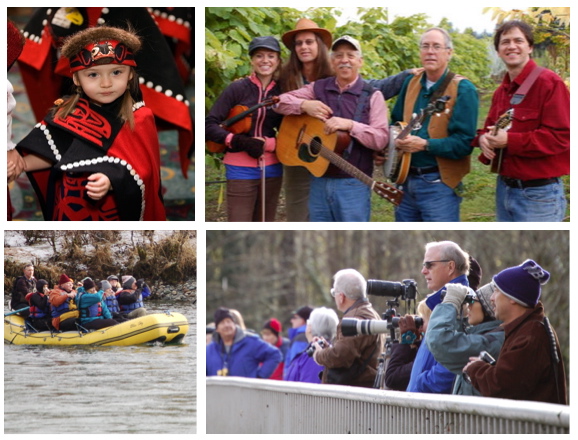 The Skagit Eagle Festival is a collaboration of dozens of agencies, businesses, and non-profit organizations, brought together by the Concrete Chamber of Commerce. We look forward to welcoming you to our community.
For more information, please contact the Concrete Chamber of Commerce. Our office is open Monday through Friday, 9 a.m. to 4:30 p.m.; Saturdays, 9 a.m. to 1 p.m.
(360) 853-8784 or email concretechamber@gmail.com
When you visit, please watch for festival signage at activity areas, and remember to stop by the Concrete Center — home of the "Skagit Eagle Festival Information Station" — at 45821 Railroad Avenue in Concrete. The Concrete Center is open each Saturday and Sunday from 9:00 a.m. to 4:00 p.m. to provide assistance, information, coffee, and restrooms. There will also be arts and crafts vendors, raffle tickets, and festival souvenirs available for purchase.