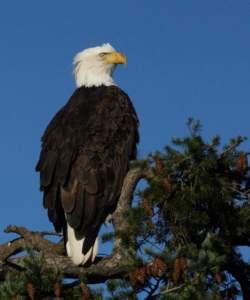 We can't wait for the Skagit Eagle Festival to begin, either! And in fact, you don't have to wait — there are activities going on right now! You can visit Rockport State Park, the US Forest Service Eagle Watcher Volunteers, and the Skagit River Bald Eagle Interpretive Center during the month of December.
Rockport State Park's Discovery Center, Fridays through Saturdays from 11:00 am to 4:00 pm, offers free refreshments, interactive displays, nature videos, books and crafts. Children ages 5 and up can participate in the Junior Ranger program which consists of age-appropriate opportunities (an activity booklet and a guided hike) to learn, play and protect natural spaces.
Free, guided tours depart at 11:00 am, noon, 1:00 pm and 2:00 pm; Rockport State Park staff, volunteers and guest speakers will lead guests on a ½ mile, 45 minute educational walk under a dense canopy of maples and old-growth evergreens – including the 500 year old Grandmother Cedar. During the hike, the guides will discuss the ecosystems that keep forests healthy. A Discover Pass is required for entry to the park; program participation is free. parks.state.wa.us/574/Rockport
The US Forest Service Eagle Watcher Volunteers are available on weekends to assist the public's viewing by providing tips and allowing use of their high quality spotting scopes and binoculars. The volunteers set up their outdoor base in the day use area of Howard Miller Steelhead Park. Additional sites are manned at the milepost 100 turnout and the Marblemount Fish Hatchery. The hatchery also offers self-guided tours with educational videos. Skagiteaglewatchers.wordpress.com
Howard Miller Steelhead Park also houses the Skagit River Bald Eagle Interpretive Center, open from 10:00 am – 4:00 pm on weekends as well as weekdays for Dec 26-30. Each Saturday and Sunday, starting Dec 9, there are guided hikes along the Skagit River at 11:00 am. Guest speakers' presentations are given on Saturdays at 1:00 pm.
Stay tuned for more Skagit Eagle Festival activity announcements!