Free Presentation: "The Recovery of the Magnificent Bald Eagles of Washington & British Columbia"
Looking for something warmer? Come in out of the cold, and join us at the Concrete Theatre for a presentation by David Hancock.
Saturday, January 6 at 1:30 p.m.
Concrete Theatre
45920 Main Street, Concrete
Contact: Valerie@concrete-theatre.com, 360-466-8754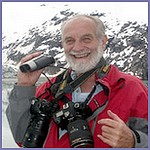 David Hancock is a biologist, conservationist, writer, publisher, and lecturer. He has spent most of his life studying west coast and arctic wildlife. David received worldwide acclaim given to the Live Bald Eagle Video Cam which he pioneered streaming on the Internet. He is an enthusiastic and dynamic lecturer and has a fine collection of slides to illustrate a number of themes. He has published scientific and popular papers on whales, seals, seabirds, grouse, and his specialty, the northern raptors. Prior to starting Hancock House Publishers, David was a pilot and wildlife film producer and produced films on these subjects as well as the Haida and other northern Native cultures. His books include The Bald Eagles of Alaska, BC and Washington, Rocky Mountain Wildlife, and The Tlingit:Their Art & Culture, Story of Eagle.