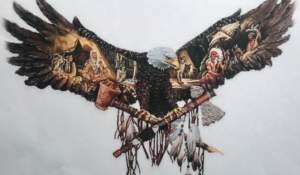 It's our annual Native American Celebration in Marblemount – enjoy storytelling, history, music and more!
Indian Fry Bread & Tacos available from 11:00 a.m. to 3:00 p.m.
All activities are at the Marblemount Community Hall, 60155 State Route 20, Marblemount, WA.
In honor of the 2018 Skagit Eagle Festival.
Featuring Special Guests:
Rosy Cayou, Historian of the Samish Indian Nation
1:00 – 2:30 p.m.
Rosy Cayou of Guemes Island, along with Indian Drummer Tsi;-Ton from the Upper Skagit Indian Tribe/ Samish Island Nation, will share history and legends through stories and song.
Peter Ali, Native American Flutist
2:30 – 3:30 p.m.
Peter is a self-taught flutist, creating music not from notes on a page but from the spirit within. Each performance is unique. Peter plays a variety of native flutes and shares their stories as well as those of his rich ethnic heritage.