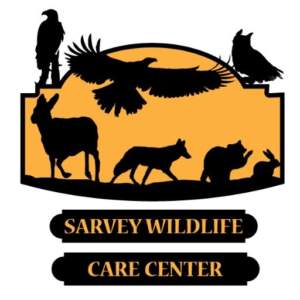 Rescue, Rehabilitate, Release.
This is the mission of the Sarvey Wildlife Care Center in Arlington, WA.  Dedicated to saving the lives of sick, orphaned, injured, displaced, and debilitated wild animals entrusted to their care, Sarvey always attempts to successfully return them to their native habitat.  Not every rehabilitated bird is suitable for release. Some, after careful consideration by Sarvey and the US Fish and Wildlife Service are allowed to remain at the Sarvey facility to be part of a glove-trained or static display in order to offer educational opportunities to encourage a greater appreciation of the uniqueness of each species, and the ecologic and conservation challenges they face.  Always in need of volunteers, financial contributions, and donations of supplies, please visit their website links for more information on how you can help. Your donations are tax-deductible as they are a registered 501(c)3 charity.
The Skagit Eagle Festival has been fortunate to be able to partner with Sarvey for the past several years, allowing Education Director Kestrel Skyhawk and her team of handlers to present different birds of prey and educate the public about the various species.  Not all of the birds are available for every educational presentation. All of the handlers are volunteers, so their availability and the temperament of each bird on the day of a presentation is a factor in the decision as to which birds will be shared.
This year's presentations will be held on January 27 at 11:00 am, 1:00 pm and 3:00 pm at the Concrete High School Gymnasium – 7830 S. Superior Avenue, Concrete.  Admission is free; donations are appreciated.
Here is a preview of some of the birds you may see.
 Hu Iyake – a Golden Eagle has been at Sarvey since 1999. Malocclusion of her beak requires regular attention, and therefore she cannot be released. Although she can fly, if released to the wild, she would slowly starve to death. Hu Iyake is glove-trained and handled by our Education Director, Kestrel SkyHawk.

 Freedom – a Bald Eagle arrived at Sarvey in 1998. Permanent wing damage left her unable to fly. Freedom is glove-trained and participates in educational presentations with her handler Robert.
 Athena –  a Great Horned owl has been at Sarvey since 1992. She was confiscated from the person imprinting her and has permanent wing damage. She is on static display in her habitat at the center.

 Celi – a Short Eared owl arrived at Sarvey in 1994. Eye damage has left her visually impaired and non-releasable. She is on static display at the center.

 Cetan – a Red Tailed hawk has been at Sarvey since 1995. A permanently damaged wing was amputated and she cannot fly. Cetan is glove-trained and is regularly included in education presentations.

 Ista – a Peregrine falcon was transferred to Sarvey in 2004 by a raptor center in California. Due to psychological damage she is unable to hunt and is imprinted. Ista is glove-trained and a regular participant in Sarvey's educational programs.
 Tadita – a Barred owl is non-releasable due to injuries to her wing. She arrived at Sarvey in 2008 and is glove-trained. Visitors can see her in her enclosure at the center and she is regularly used in educational presentations.

 Canowicakte – a Great Horned owl arrived at Sarvey in 1997. She has a damaged wing and is non-releasable. Cano is glove-trained and participates in educational presentations. Visitors to the center can see her in her enclosure in the educational area at the center.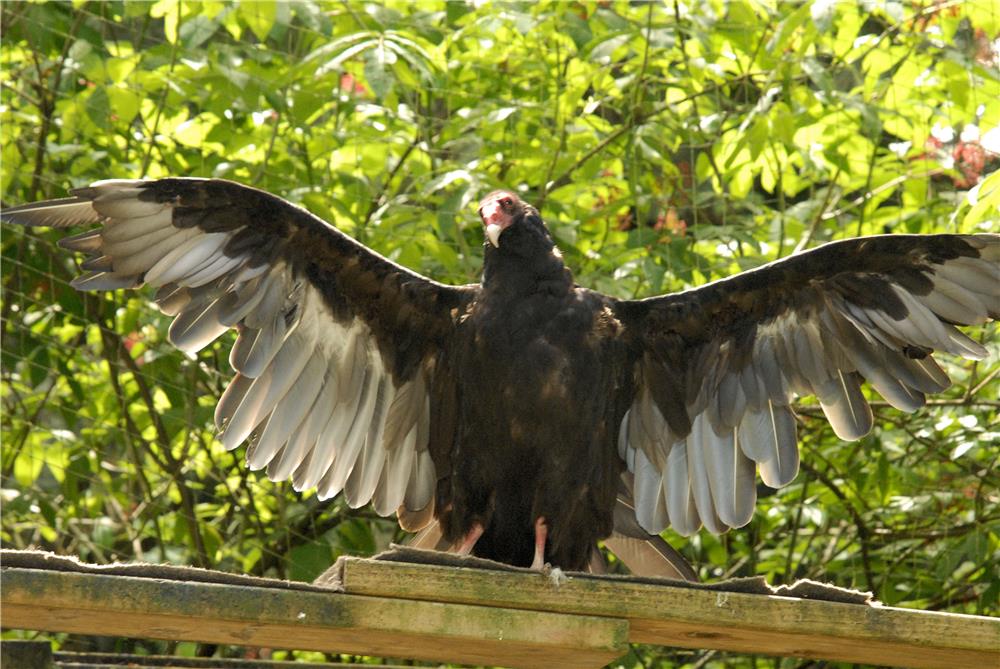 Aura – a Turkey vulture who came to Sarvey as a juvenile in 2011. She had a follicle condition that never improved and is unable to grow the feathers necessary to sustain flight. She is smart and curious and especially loves the morning sunrises that hit her enclosure. Aura is now gloved trained and often participates in presentations with the team.