You're invited to join us for the first annual Cascade Days Poker Walk on Saturday, August 18, starting at 9:30 a.m. at the historic Concrete Theatre in Town Center. It's FREE but registration is required so at least sign up soon, as we may have to limit the number of participants. ♠️
WHAT IS THE POKER WALK? ♣️
♥️A chance to get some outdoor exercise while you take in the natural beauty of our community and get ready for the Cascade Days Parade!
The Poker Walk starts at 9:30 a.m. on Saturday, August 18 at the Concrete Theatre, 45920 Main Street. ♠️♣️♥️♦️
You have 75 minutes to walk or run to each of the stations to pick up a playing card.
HOW DOES IT WORK? ♣️
You walk the route, collecting a poker hand of 5 cards. To be eligible to win a PRIZE, you must return your poker hand to the Concrete Theatre at 10:45 a.m., right before the parade begins on Main Street.
In the case of one or more ties, we'll draw for high card to determine the winner. Please see the Route & Rules elsewhere on this page. (You'll receive a copy at the event.)
♠️♣️♥️♦️ NOTE: The Concrete Poker Walk is FREE!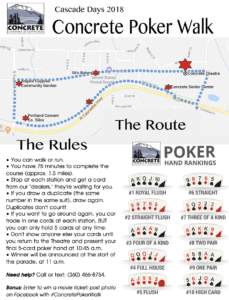 It's not a race. The route will take you about 30-45 minutes if you're an average walker. At the 4th of July Poker Walk, most people completed the walk once, but some walked the route twice, and one runner went around 3 times! (no pressure, do what you want!)
WHY A POKER WALK? ♥️♦️
It's a way to join with friends and family and celebrate our health and fitness, while competing with one another for the best poker hand in an easy, friendly manner.
WHO'S BEHIND THIS POKER WALK?
♠️♥️ The event is sponsored by the Concrete Chamber of Commerce, Concrete Theatre, and Encore Fitness. PRIZES are donated from local businesses.
♠️♣️♥️♦️ REGISTRATION IS REQUIRED! ♠️♣️♥️♦️
Make sure you sign up here: https://concretepokerwalk.bpt.me/
You don't need to print anything, your name will be on our registration list.
Questions? Please contact Valerie Stafford, Chamber President, at (360) 466-8754, or via email: Valerie@Concrete-Theatre.com.