A sold-out crowd at The Concrete Theatre in Concrete on July 20 will watch the premiere showing of "Escape from Diablo," a safety video designed to help people understand evacuation procedures at Seattle City Light's Skagit Hydroelectric Project and its company towns of Newhalem and Diablo.
The 12-minute video uses humor to engage viewers in a serious safety message that is already catching on. Strong community response to a trailer for the video led to the development of a Baker Street Safety Block Party that will take place around the premiere. And community members who started a viral video challenge to spread the safety message using "Escape from Diablo's" signature tilt of the sunglasses and "safely" catch phrase.
The block party will include safety exhibits, family activities, emergency responders, demonstrations and emergency vehicles. The event is sponsored by City Light, the Concrete Theatre , the Concrete Chamber of Commerce, and the Town of Concrete, with support from Puget Sound Energy, the Upper Skagit Library District, Annie's Pizza Station, Cascade Burgers, Cascade Supply, Concrete Herald,  5b's Bakery, Double O Ranch, Heritage Inn, Skagit River Bald Eagle Interpretive Center, and Glacier Peak Resort.
Exhibitors include the Skagit County Department of Emergency Management, Washington Department of Natural Resources, Aero Skagit Emergency Services, Darrington Fire District 24, Skagit County Fire District 10, East County Water Rescue, Skagit County Fire District 14, the Whatcom County Sheriff's Office and the Lions Club, and others.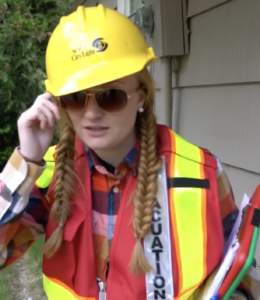 In August 2015, the Goodell Creek Fire burned about 7,100 acres of forest, damaged transmission lines at the Skagit Hydroelectric Project and threatened the Diablo Powerhouse. City Light evacuated Diablo, voluntary evacuations were announced for Newhalem and the utility assisted with evacuations at the North Cascades Institute's Environmental Learning Center.
Admission to the event and the video showings is free. The theater is located at 45920 Main St., Concrete, WA 98237. The block party begins at 5 p.m. across the street from the theater. The first showing of the video begins at 6 p.m. followed by a safety discussion. Seats are available for the second showing, which starts at 8 p.m.
Reporters and photographers are invited to cover either showing.
For more details, visit http://www.escapefromdiablo.com/