Who knew there we so many ghastly characters in Concrete's past? Over these last 13 years, we've learned all about some of our most unusual residents, including Fred Cole, the lawman with a very sketchy past, Mrs. Henry Thompson, who refuses to accept the fact that her husband is gone (never mind the fact that she, too, is dead), and assorted "Ladies of the Night" who continue to party in our buildings late at night.
If you like creepy tales based on actual facts, if you're looking for a fun (but slightly twisted) way to spend an October evening, join us on Saturday the 6th, 13th, 20th or 27th.
The Concrete Ghost Walk regularly sells out — and we're limited in the number of bodies (
👻 live ones, that is) we can squeeze into our haunted sites and alleys. We hate turning people away.
TICKETS ARE ON SALE NOW, so please get yours so you won't be left out in the cold, dark, scary night, all alone 
👻, wondering what went wrong…. And what's that noise over there in the shadows??
Trust us, you don't want to be that person.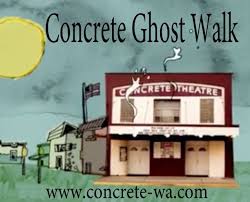 Check out our Facebook page for more details: https://www.facebook.com/events/1917053585257530/