START YOUR EAGLE FESTIVAL EXPERIENCE HERE
INFORMATION STATION
Saturday
9 a.m. – 4 p.m.
Concrete Center
45821 Railroad Street, Concrete
• Arts & Crafts
•  Festival Souvenirs
• Maps, Schedules, Directions
• Free Popcorn, Coffee & Restrooms
Email the Chamber
(360) 853-8784
Saturdays & Sundays in January

Click here for the special one-time or one-weekend only events during January.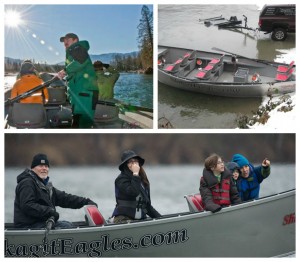 SKAGIT RIVER EAGLE VIEWING & PHOTOGRAPHY TOURS
Offered by Skagit River Guide Service
7 days a week from mid November till the last week of January
9:30 a.m. and 1 p.m.
Howard Miller Steelhead Park
52921 Rockport Park Road, Rockport
Experience a premier 3-hour tour in our heated drift boats with high-backed cushioned seats.
Photography or scenic trips available. $75 per person, children 5 and under $55. Reservations required.
(888) 675-2448
skagitguide1@gmail.com
www.skagiteagles.com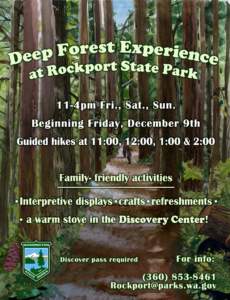 DEEP FOREST EXPERIENCE
Every Friday/Saturday/Sunday beginning December 9th
11:00 a.m. – 2:00 p.m.
Rockport State Park
51095 State Route 20, Rockport
This forest tour will take you deep into the 670 acres of old-growth forest of Rockport State Park at the foot of Sauk Mountain. Guided hikes are at 11:00, 12:00, 1:00, and 2:00. Let kids explore in the Discovery Center with crafts and interactive wildlife displays, books, and games while you warm up by the fire and enjoy popcorn and a beverage. Discover Pass or $10 Day Use fee is required to access the park. Guided hikes & Discovery Center is free. (360) 853-8461
rockport@parks.wa.gov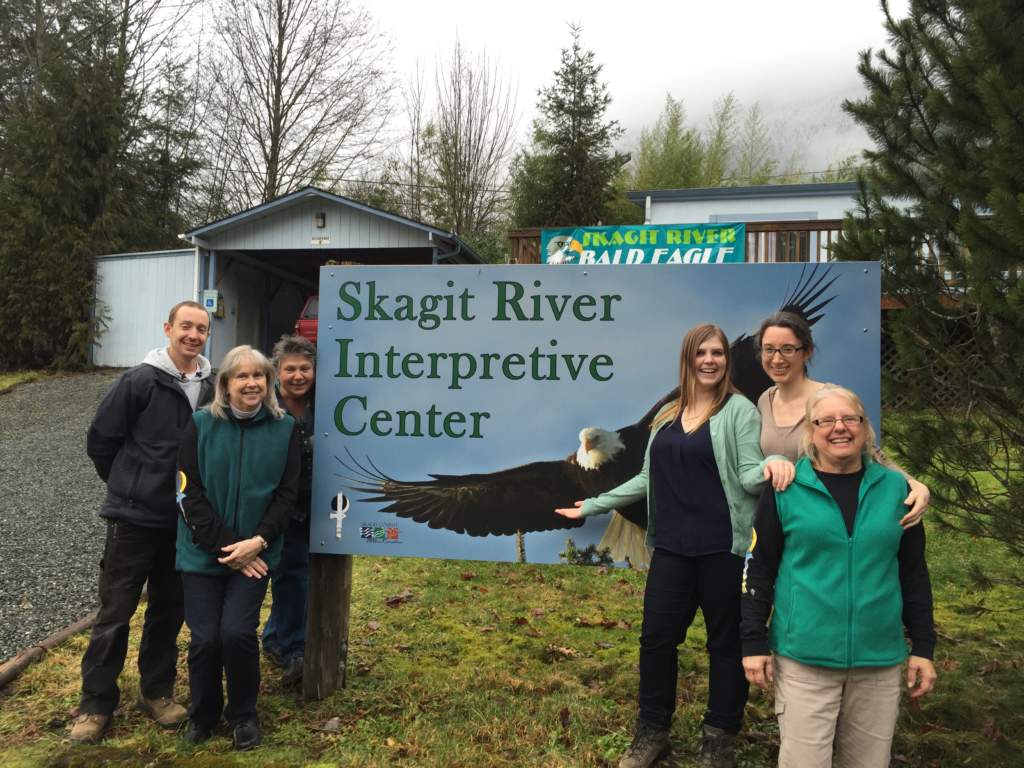 SKAGIT RIVER BALD EAGLE INTERPRETIVE CENTER
Every Saturday/Sunday December and January
10 a.m. – 4 p.m. Howard Miller Steelhead Park
52809 Rockport Park Rd, Rockport
The Skagit River Bald

Eagle

Interpretive Center
provides education about the
Skagit River ecosystem with an emphasis on the winter migration of bald

eagles

, salmon, and the vital role each play in the environment
. The Center provides local

eagle

watching information, guided nature walks, presentations by a variety of experts, informative videos, and a K-12 School Program.
The Nature Store highlights local artisans and the Children's Corner engages youth. Open the day after Christmas through New Year's Day. Guided nature walks along the Skagit River occur at

11 a.m.

every weekend day and speaker presentations occur Saturdays

1 p.m

.  
Operated by the 
Skagit River Bald Eagle Awareness Team
, a nonprofit organization.
Free admission. Donations appreciated.
(360) 853-7626
EAGLE WATCHER STATIONS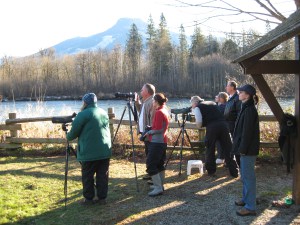 Every Saturday/Sunday
10 a.m. – 3 p.m.
Eagle Watcher volunteers can answer your questions about bald eagles, salmon, and the Skagit watershed. They'll have binoculars and spotting scopes available for your use. Viewing stations are at Howard Miller Steelhead Park in Rockport, Sutter Creek at Milepost 100, and Marblemount Fish Hatchery. Marblemount Fish Hatchery is also offering self-guided tours. Free. (360) 854-2630
tkitterman@fs.fed.us

SKAGIT RIVER BALD EAGLES WINTER ECO TOUR
Offered by
Skagit Guide Adventures
 —  "Re-Wild" Your Spirit! Daily during December and January  — 9:30 a.m. – 3:30p.m. Join Skagit Guided Adventures Winter 2016 Skagit River Bald Eagles Eco Tour to experience the unforgettable sights, sounds & behaviors of these regal birds! They will "Re-Wild" Your Spirit! The Skagit River Bald Eagles Eco Tour takes you to experience the wilderness along the Skagit River during December & January. It is here that hundreds of migratory bald eagles congregate to feast on the winter salmon run!
As we stop along the Skagit River to watch, listen and learn about the regal bald eagles, you'll find yourself surrounded by the snow covered mountains of the North Cascades, as well as the moss & lichen covered forest trees. The incessant glacial meltwater of our life sustaining Skagit River will serenade you all along. A visit to the Skagit Bald Eagle Interpretive Center is also included. During the Skagit River Bald Eagles Eco Tour, you'll also learn about the life cycle of salmon, the different species, and their importance in sustaining not only the bald eagles, but also bears, orcas, the PNW fisheries and ways of life.   You'll also understand the role our magnificent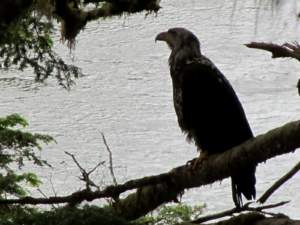 temperate rain forest plays in sheltering the entire Skagit River watershed system on which its wildlife, and humans, depend upon. The Extended Tour option (2 hrs) includes a visit to a salmon hatchery and a 1-3 mi walk through an old-growth forest.Warm clothing, gloves, hats, footwear, and rain gear are highly recommended during our crisp winter days. We provide binoculars.For tour availability and more details, go to
http://skagitguidedadventures.com/adventures/skagit-eagles-winter-eco-tour/.
 Saturdays in January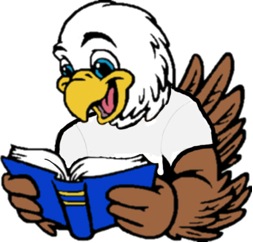 LITTLE EAGLET DROP-IN  CRAFT
Every Saturday 10 a.m. – 3 p.m. Upper Skagit Library
45770B Main Street, Concrete
Families with young children are invited to learn about eagles and other wildlife through stories, songs, and a simple craft. Free.
(360) 853-7939
www.upperskagit.lib.wa.us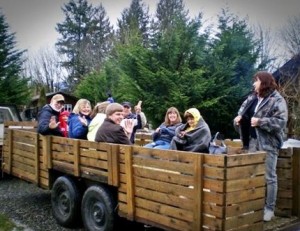 WILDLIFE HAYR
IDE & CAMPFIRE
Ovenell's Heritage Inn & Double O Ranch
First two Saturdays (1/6 & 1/13) only 3 p.m.  Double O Ranch 46276 Concrete Sauk Valley Road, Concrete An educational hayride through 250 acres of timber, pasture, and Conservation Reserve Enhancement Program (CREP) project. See eagles, deer, elk, and more. Learn about our conservation projects, selective timber harvesting, and see how wildlife habitat is enhanced by our ranching practices. Enjoy coffee, hot chocolate, and cookies by the fire. Children's wildlife footprints matching game and ranch history display. Pets must remain in car. Activity is weather dependent. Dress for the weather! Please check our website for activity updates. Free. breakfast@ovenells-inn.com
www.ovenells-inn.com
(360) 853-8494             
Click here for the special one-time or one-weekend only events during January.