It's time to light up the darkness again —  especially important after the wind, weather, water and power outages most of us have suffered recently!
We hope you're interested in participating in the Holiday Lane Decorating Contest by entering the contest, voting on the entries, or just traveling around to enjoy the displays.
Enter here: https://concrete.wufoo.com/forms/holiday-lane-entry-form/
Please note: entry forms can only be accepted online this year.
ENTRY DEADLINE: 5:00 P.M., NOVEMBER 30, 2021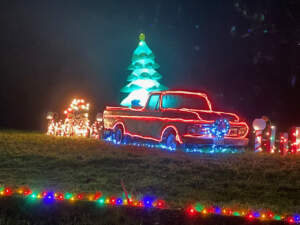 All contest entries must be located within a 10-mile radius of Town Center in Concrete. It is important that your entry can be safely viewed from a main road that is easily accessible to the public. Because many people may be driving by to enjoy our decorations, it's strongly recommended that you make your neighbors aware you have entered the decorating contest so they are not alarmed by the increase in traffic.
WINNERS WILL BE DETERMINED ON DECEMBER 27, 2021 AND NOTIFIED BY EMAIL.
Grand prize winner receives a Year of Pizza (one each month) from Annie's Pizza Station.
Winners of each category will receive gift certificates from other local businesses.
Holiday Lane is brought to you by the Concrete Chamber of Commerce and Town of Concrete, with funding from Skagit County. We appreciate your support and participation. Please share this email with others who might be interested.
Questions? Please contact the Concrete Chamber of Commerce:
chamber@concrete-wa.com
.
– – –
Read more on these pages:
Find the Gnomes – The challenge starts December 1, 2021. Using a special smartphone app, you and your family can win prizes by completing the activities and capturing photos and selfies with the gnomes.
Santa Arrives – In Town Center, Saturday, December 4 at 6:00 p.m. Gather around the tree and watch Santa arriving by a special, mule-drawn wagon!
Tree Lighting – Join us to light the community tree, welcome Santa, enjoy refreshments and visit with your friends and neighbors outdoors, safely. Everyone is welcome. Saturday, December 4 at 6:00 p.m.