Tree Lighting in Concrete
Saturday, December 4, 2021
Starts at 5:30 p.m. – Santa arrives at 6:00 p.m.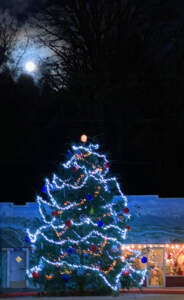 Town Center
Join us to light the community tree, welcome Santa, enjoy refreshments and visit with your friends and neighbors outdoors, safely. Everyone is welcome. The fun starts at 5:30 pm with music and merriment in Town Center!  There will be kids on unicycles, a Cheer Squad performance, music by soloist and emcee Janie Kelley as well as free cookies and hot beverages. Dress for the weather. Main Street will be closed to through traffic near the Town Tree; please park and walk in.
Remember: you don't need to BE a kid or BRING a kid —  just bring your childlike love of the season!
– – –
Read more about Holiday Lane activities on these pages:
Find the Gnomes – The challenge starts December 1, 2021. Using a special smartphone app, you and your family can win prizes by completing the activities and capturing photos and selfies with the gnomes.
Decorating Contest – Submit your entry form by Saturday, December 4 to be listed here. If you attach a photo to your entry form, people all over the world will be able to enjoy your decorations!
Santa Arrives – In Town Center, Saturday, December 4 at 6:00 p.m. Gather around the tree and watch for Santa to arrive! Come early for pre-Santa performances, starting at 5:30 p.m.