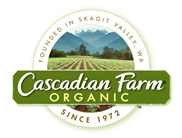 Cascadian Farm will not be open to visitors for the summer 2021 season.
We know that the Farm is a big part of the eastern Skagit Valley community and that many visitors stop by every year to create memories at the Farm.  We are sincerely sorry for the impact this closure may have on your travel plans – we will miss you!
From May to October, our Roadside Stand is open daily, so make sure to stop in for a pint of our fresh, seasonal berries, learn about organic farming, enjoy a picnic in our flower garden or to try some of our delicious homemade organic ice cream.
Website:
http://www.cascadianfarm.com
Phone: 360-853-8173
Contact Person: Ashley Minnerath
Address: 55931 State Route 20 / PO Box 98
Rockport, WA 98283