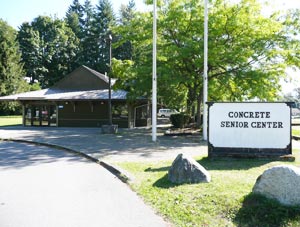 The Concrete Community Center is the meeting place of our community's Senior Center, and the venue for a variety of local meetings and events throughout the year.  For Senior Center or Community Center information, contact Claudia Marken (below).
SKAGIT EAGLE FESTIVAL INFORMATION STATION
Every full weekend in January, the CONCRETE CENTER is the home of the Skagit Eagle Festival Information Station, open from 9:00 a.m. to 4:00 p.m. During the annual festival, plan to stop at the CONCRETE CENTER for:
Arts & Crafts
Skagit Eagle Festival Souvenirs
Maps, Directions, Information
Clean Public Restrooms
Free Popcorn, Coffee & Conversation
Gift Basket Raffle Tickets
For Skagit Eagle Festival information, contact the Concrete Chamber of Commerce:
(360) 853-8784, or Skagit Eagle Festival Organizer, Valerie Stafford, by email.