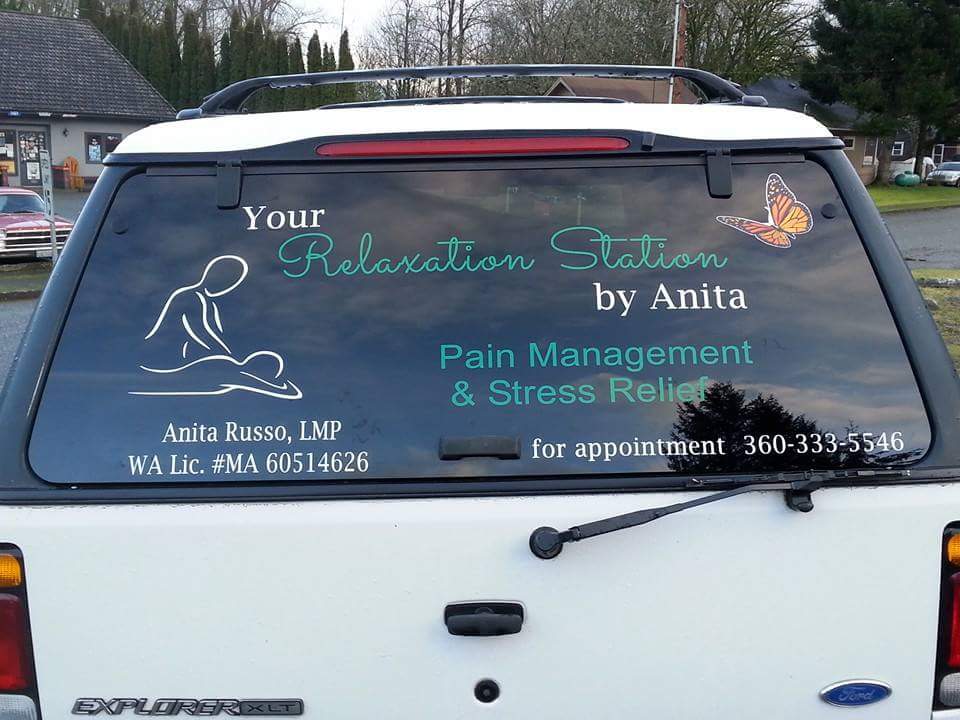 Hi, my name is Anita Russo, Licensed Massage Practitioner, and I am very excited about sharing my "gift of healing" in the quaint town of Concrete to those who live here as well as those from surrounding areas.  I am very passionate and interested in ALL forms of healing and am looking forward to gaining more knowledge and experience in all areas pertaining to the sense of the well-being of the WHOLE person — spirit, mind & body.
For your first visit, please plan on spending about 2 1/2 hours with me –
-15 minutes of introductions and filling out paperwork
-15 minutes in a reclining massage chair
-15 minutes on a chiropractic rolling table
-90 minutes of a hands on massage by me
-15 minutes of learning and performing several stretching exercises
ALL for only $75
After the first time, a 60 minute massage by me will cost you $60 and if you would like to use the machines again, it will cost you $10 for 15 minutes or $15 for 30 minutes.
***If you become one of my Preferred Customers who come every week for a 60 minute massage by me, then you will have the choice to pay $45 for your massage or pay $60 and the 1/2 hour on machines will be included.  Plus I will grant you a complimentary massage for your birthday as another special thank you for using my services!***
Whether you prefer a Swedish massage, Deep-Tissue massage, or a combination of both – please call 360-333-5546 to set up your appointment today.  I look forward to our visit! Namaste and God bless you.
Anita Russo, LMP
WA Lic #MA 60514626
By appointment only.

Phone: 360-333-5546
Contact Person: Anita Russo
Address: 7460 S Dillard Ave
Concrete, WA 98237