Weekend 1 – January 6 & 7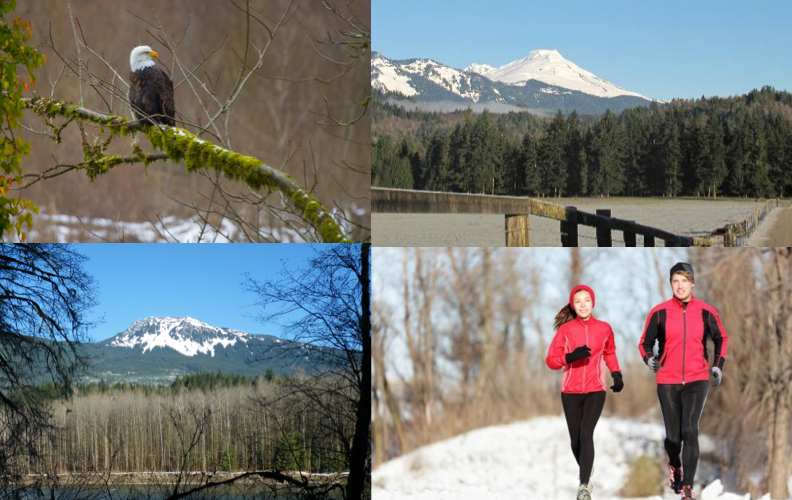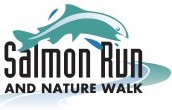 SALMON RUN AND NATURE WALK
SATURDAY, JANUARY 6, 2018

9:30 a.m. Salmon Run Registration
5K Run 10:00 a.m.
10 a.m. – 12 p.m. Nature Walk
Ovenell's Ranch, 46276 Concrete- Sauk Valley Rd., Concrete •
www.ovenells-inn.com

Unique 5K trail run that takes you through a beautiful ranch and along the Skagit River.
Entry fee of $20 includes a knit fleece-lined hat, healthy snacks, bonfire and cocoa.
Not a runner?
Join in a
free
family-friendly nature walk to look for eagles, osprey, deer, elk, and beaver.  Co-Sponsored by Concrete Chamber of Commerce, Ovenell's Heritage Inn, and Community Bible Church of Concrete.  We look forward to seeing you on the trail!! chamber@concrete-wa.com
(360) 853-8784 • (360) 466-8754  
Free Presentation:
"The Recovery of the Magnificent Bald Eagles of Washington and British Columbia"
SATURDAY, JANUARY 6, 2018
Concrete Theatre
1:30 p.m. 45920 Main Street, Concrete David Hancock is a biologist, conservationist, writer, and creator of the Hancock Wildlife Foundation. www.hancockwildlife.org         
 Weekend 2 – January 13 & 14

Free Workshop:
"Wilderness Photography"
Saturday, January 13, 2018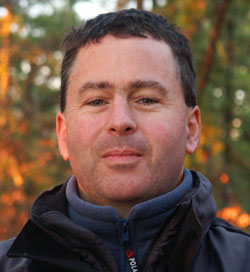 Concrete Theatre
11:00 a.m.
45920 Main Street, Concrete
Photographer Andy Porter (www.
andyporterimages.com
) will discuss subject placement, the Rule of Thirds, use of leading lines, framing, reflections and much more.
Free admission.
chamber@concrete-wa.com (360) 466-8754

SPECIAL EVENTS IN MARBLEMOUNT:
NATIVE AMERICAN HISTORY, STORYTELLING, MUSIC, & MORE
***PLEASE NOTE SCHEDULE CHANGES*** Saturday, January 13, 2018 10 a.m. – 5 p.m. Marblemount Community Hall 60055 State Route 20, Marblemount Native history, storytelling, and music   Free admission. Donations appreciated. Coordinator: Kathy Hunter – (360) 770-3173 Marblemount Community Hall – (360) 873-2323          
 Weekend 3 – January 20 & 21

PHOTO PRESENTATION AND DISCUSSION: "A WALK ON THE WILD SIDE"
Explore Wildlife with Leah Stafford Serna
Saturday, January 20, 2018
11:00 a.m.
Concrete Theatre
45920 Main Street, Concrete
FREE presentation featuring wildlife from the Skagit Valley and beyond. Learn what it takes to capture beautiful images of these amazing creatures. Even if you aren't interested in photography as a hobby, you'll love seeing these photos on the silver screen and hear the stories behind the shots.
Weekend 4 – January 27 & 28
SARVEY RAPTOR PRESENTATION!
Saturday, January 27, 2018
Raptor Presentations 11 a.m., 1 p.m., & 3 p.m. Concrete High School Gymnasium 7830 S. Superior Avenue, Concrete
Sarvey Wildlife Care Center provides a unique opportunity to learn about the wildlife in Puget Sound. Their Birds of Prey presentation will give you the chance to see 5 or more of these raptors up close.
Free admission
concretechamber@gmail.com
(360) 853-8784
PHOTOGRAPHY WORKSHOP: "CREATING MAGICAL MOMENTS WITH BIRD PHOTOGRAPHY"
Saturday, January 27, 2018
11:00 a.m.

Concrete Theatre
45920 Main Street, Concrete
Instructor Karen Ulvestad
www.karenulvestad.com.
Free admission; concessions for sale.
chamber@concrete-wa.com
(360) 466-8754
Workshop Description – Birds are present in our everyday lives, and this is a tribute to them. We look to our cameras to document their behavior or simply their beauty. We will discuss the variety of birds in the Pacific Northwest, and photography tips for capturing the best images possible. Each season brings different species of birds into our yards, neighborhoods, forests and wildlife refuges. Birds migrate through our area along the Pacific Flyway, and we get opportunities to experience their diversity. Wintering birds give us opportunities to visit, observe, and photograph these magnificent creatures.
 Slide presentation with plenty of time for question and answers.
Bio – Karen Ulvestad is breaking into the International photography scene with stock images published in Europe and Asia. Her work is collected by clients in the US. She teaches and speaks at various birding festivals, prominent art schools, and runs independent workshops. Her work is represented by Photographers Direct (Europe), and Alamy stock agencies. Her resume includes clients in commercial real estate, product, and business head shots.
Click here to see the list of activities that start in January.