Concrete Celebrates the 4th
We love a parade and we value our independence, so of course we're celebrating this major holiday in style!
Join us on Saturday, July 4 at 11:00 a.m. for a parade that travels from east to west on Main Street (different this year!).Then we'll all get together in Veterans Memorial Park for a BBQ, music, kids' games and who-knows-what-else!
Sponsored by Puget Sound Energy!
Parade:
Anyone can join in, there's no entry fee. All that we ask is you arrive no later than 10:30 a.m. in the Puget Sound Energy parking lot to line up.
  BBQ & Picnic:
Bring your own picnic or enjoy the BBQ offered by the Concrete Chamber, by donation. Picnic tables are courtesy of our friends at Puget Sound Energy.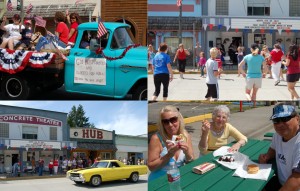 Music, Games, Zumba & More:
Join in or just watch — there'll be something for everyone. If you have something to demonstrate, share or sell,
let us know.
  You'll need to provide your own tables, chairs and canopies.   Concrete Saturday Market will also be open, with baked goods, produce, handcrafted items and music. Please plan to visit the Market at the Concrete Center (a short walk from the Park), before or after our celebration.  
Contact us
for more information, to volunteer or to request a parade entry form.  
Concrete Chamber of Commerce
Visitor Center & Vehicle Licensing
Hours: Monday – Friday 9:00 a.m. – 4:30 p.m. (Closed 1:00-1:30 p.m.)
Saturday 9:00 a.m. – 1:00 p.m.  
Our office is located in the East Skagit County Resource Center
45770 Main Street in Concrete
Contact us
Phone: 360-853-8784