Skagit Eagle Festival 2014 — Every Weekend in January — Fun for the Whole Family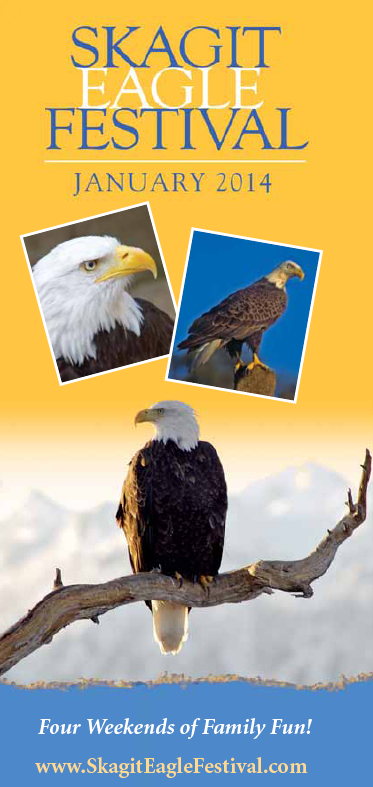 The Skagit Eagle Festival is a month-long celebration during eagle-watching season in eastern Skagit County. Activities take place in Concrete, Rockport and Marblemount every Saturday and Sunday in January, starting January 4, 2014.
This year's festival features a variety of free tours, walks, and educational programs where you'll learn not only about these majestic birds, but also about a variety of other wildlife and the beautiful areas along the Skagit River where they live or return each year.
Enjoy raptor presentations, arts & crafts, wine-tasting, bluegrass and folk music, a 5k run along the river, hayrides, boat trips, Native American music and crafts, and many other outdoor and indoor activities. Bring your camera, dress for winter weather, and join us for one of the most uplifting and entertaining events of the year!
Please note that some activities are repeated each weekend, on both Saturday and Sunday; other events are one-time only, offered on Saturdays during specific weekends. Questions? Download the BROCHURE (PDF 1MB) for a complete schedule, or contact us.
Weekend 1: JANUARY 4 & 5, 2014
SPECIAL  EVENTS on January 4, 2014
Weekend 2: JANUARY 11 & 12, 2014
SPECIAL  EVENTS on January 11, 2014
Weekend 3: JANUARY 18 & 19, 2014
SPECIAL EVENTS on January 18, 2014
Weekend 4: JANUARY 25 & 26, 2014
SPECIAL EVENTS on January 25, 2014