Welcome to Concrete!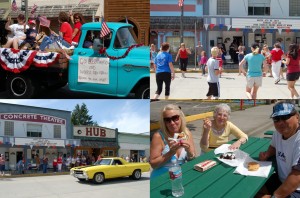 Summer is here, the North Cascades Pass is open, and there's a lot of new activity in Concrete! We hope you'll come visit.
The Concrete Saturday Market is open every Saturday during the summer. Shop the market for unique handmade items you won't find anywhere else!
Two new restaurants have opened. Sonny Bear's Restaurant on State Route 20 has re-opened under new management and now offers authentic Korean fare. Main Street welcomes The Lone Star Restaurant and Watering Hole serving breakfast, lunch, and dinner 7 days a week.
Silo Park is undergoing some major changes with the development of a Park & Ride, spray park, and a transverse climbing wall on the north face of the silos. Keep your eye out for these exciting new additions.
We expect July to be fun-filled with our annual 4th of July celebration, Youth Activity Day, and the North Cascades Fly-In. Come and join the fun!

Chamber Office, Visitor Center & Vehicle Licensing
Hours: Monday – Friday 9:00 a.m. – 4:30 p.m. (Closed 1:00-1:30 p.m.)
Saturday 9:00 a.m. – 1:00 p.m.  
Our office is located in the East Skagit County Resource Center
45770 Main Street in Concrete
Contact us
Phone: 360-853-8784