Visit the Ghosts in Concrete this Month: 5 Nights to Choose From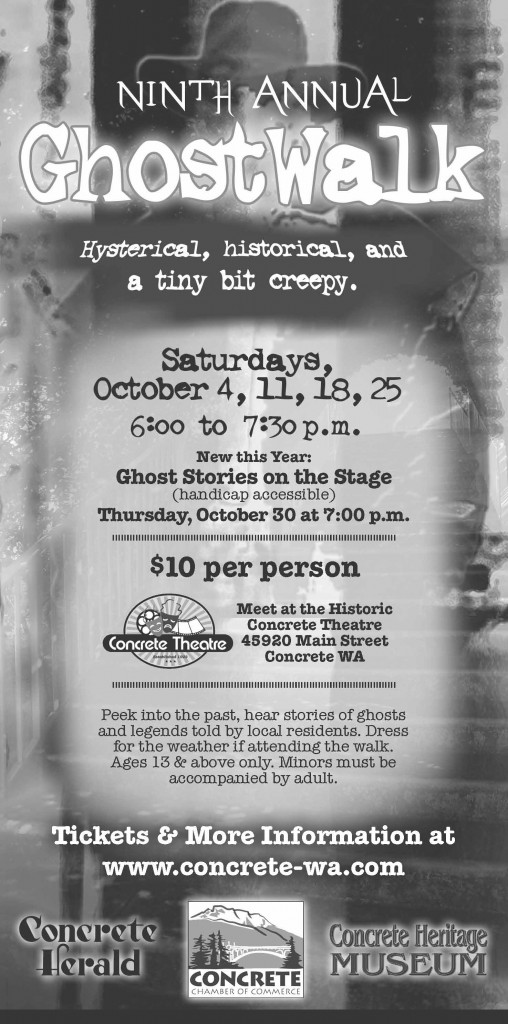 Join us for a unique experience that's partly historical and more than a little bit creepy. The Concrete Ghost Walk takes place every Saturday night in October 2014, beginning at the historic Concrete Theatre, in Town Center at 6:00 p.m.
Learn about the characters, events and legends that have shaped our spirited community, hear from local residents (living and otherwise) and enjoy a tour along the haunts of Main Street.
Please come prepared to walk — dress for the October weather, wear sturdy shoes, and bring a flashlight if desired, as the tour includes at least one dark alley.
Participants must be at least 13 years old and minors need to be accompanied by an adult. Please note: this is not a typical "haunted house" type activity; it requires walking, standing, listening quietly to stories. Plan accordingly when including younger people, and please leave babies and pets at home. This is not a safe or enjoyable event for them.
Saturdays, October 4, 11, 18, 25
Starting at 6:00 p.m. at the Concrete Theatre
Tickets are $10 per person. Don't wait — you don't want to miss it!
NEW THIS YEAR:
Ghost Stories on the Stage
Thursday, October 30
7:00 – 8:30 p.m.
Concrete Theatre
$10 per person
Enjoy an evening of ghost stories in the comfort of the
 Historic Concrete Theatre, 
45920 Main Street, Concrete WA
. This venue is handicap accessible.
For more details, please contact Ghost Walk leader Valerie Stafford, Call/text: (360) 466-8754.