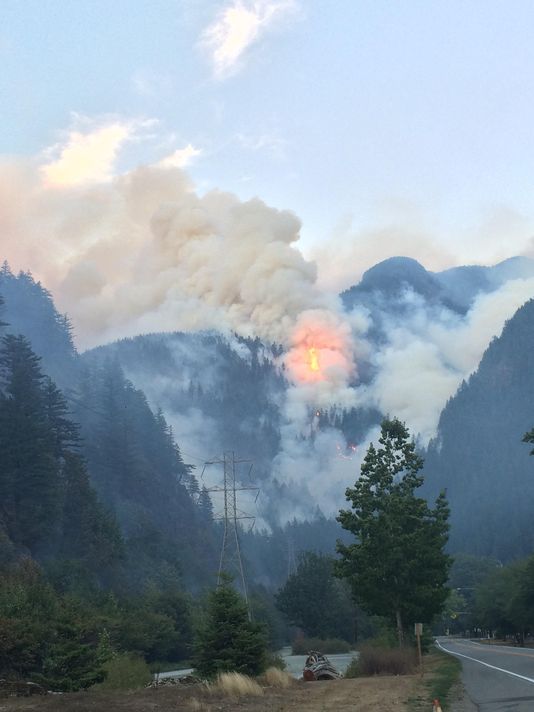 Concrete is accessible, as usual.
Our thoughts are with our neighbors to the east.
The North Cascades highway, State Route 20, remains closed at Milepost 112, as fire crews defend the area around Newhalem, North Cascades National Park complex campgrounds, and the park visitor center.
August 26, 2015

Road and Area Closures:
The State Route 20 closure was moved today to insure public safety as the fire has moved westward.  The highway is closed from approximately 5 miles north of Marblemount to Rainy Pass. In addition to the fire activity on the west side loosened soil, rock, and vegetation continue moving down the steep slopes onto the roadway creating a continuing unpredictable driving hazard.
The Upper Skagit Complex Fires, located  in the  North Cascades National Park, north of Marblemount, Washington are now at 5,605 acres between the eight fires.  On August 24, the eight  fires were at 4,342 acres. The fires are believed to have been started by lightening on August 10th, 2015 and there are currently 176 personnel, including 3 hand crews, 1 helicopter, 6 engines, and 1 water tender on scene.
For more details, go to:
Concrete Herald
Skagit Breaking
Washington State Dept of Transportation
Department of Natural Resources
Have questions about Concrete and surrounding areas? 
Contact us
for more information.  
Concrete Chamber of Commerce
Visitor Center & Vehicle Licensing
Hours: Monday – Friday 9:00 a.m. – 4:30 p.m. (Closed 1:00-1:30 p.m.)
Saturday 9:00 a.m. – 1:00 p.m.  
Our office is located in the East Skagit County Resource Center
45770 Main Street in Concrete
Contact us
Phone: 360-853-8784