Things to do in North Cascades National Park Near Concrete, WA
Get out on foot, bike, boat or car to discover the recreational opportunities and things to do in North Cascades National Park and the surrounding area. Drive the gorgeous Mountain Loop Highway which leads through stunning landscapes. Grab your binoculars and head to Rasar State Park to look for eagles, or discover the diverse plants and animals of the ancient forests nearby. From swimming in clear lakes to driving roads leading through beautiful countryside, you'll find plenty to do for people of all ages and abilities in and around Concrete, Washington.
Explore Concrete, Washington and North Cascades Recreation:
Parks & Lakes
Rasar State Park (pictured below) is a 169 acre park in Concrete, WA that has a playground, and 4,000 feet of freshwater shoreline on the Skagit River. Eagle watching is best in early fall and winter. Website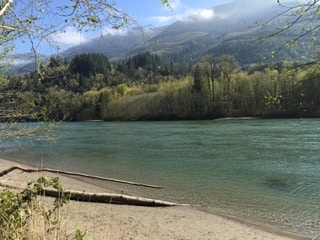 Rockport State Park is a 670 acre park in an ancient forest which contains old growth that has never been logged, leaving the entire ecosystem in place. Located in this park is the David Douglas Historical Marker. David Douglas, a horticulturalist, discovered the Douglas fir in 1825. (8 miles east of Concrete). Website
Howard Miller Steelhead Park in nearby Rockport is right on the Skagit River. There are many recreational activities along the river include fishing, river rafting, biking, hiking, history, and wildlife viewing. Website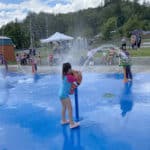 Silo Park had a new addition added in 2022, the Spray Pad! It's been a fun addition to the park and a destination for kids in Concrete. Bring your friends & family, a picnic lunch and have some fun! Where shoes please! Open 9am-7pm daily.
Baker Lake features camping, boating, fishing, picnicking, hiking and pack and saddle trips. Developed campgrounds are located on the western side of the lake. Website
Lake Shannon is a long, narrow reservoir on the Baker River which was formed in the 1920s by the construction of the dam. The Lake Shannon Boat ramp and new Day-Use Park offers guests a large picnic shelter with picnic tables and grills. Sidewalks and trails feature native restoration landscaping. The park is open from 7am-9pm daily April 15th – October 31st. It is closed to drive-in traffic November 1st – April 14th annually. (pictured at left and below). Website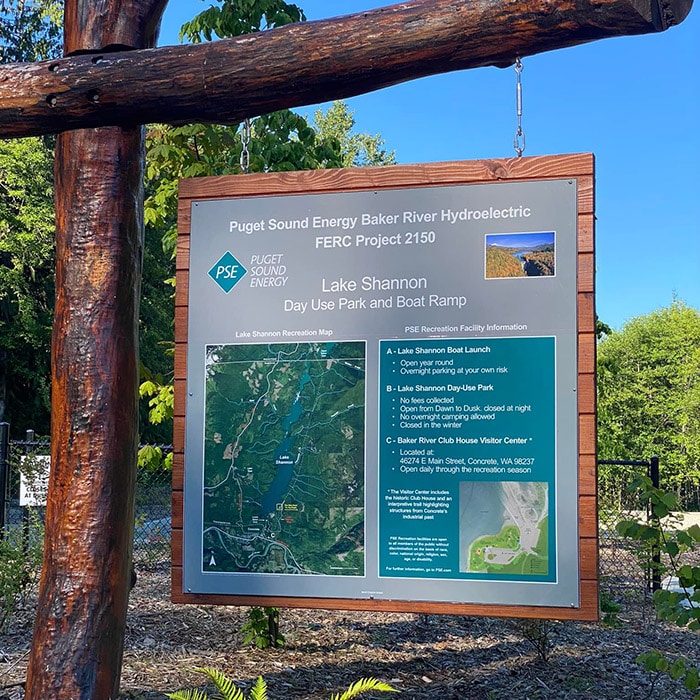 Mountain Loop Scenic Byway
This scenic byway loops through the Mt. Baker-Snoqualmie National Forest providing access to Boulder River, Henry M. Jackson and Concrete Peak Wilderness areas plus hundreds of miles of hiking trails. Length: 27 miles; Time: 40 minutes. Website
North Cascades National Park & North Cascades Highway
There's lots of things to do in North Cascades National Park! The North Cascades National Park Complex offers excellent opportunities for adventure, exploration, learning, and having fun! Drive 30 miles across the park on the North Cascades Highway (State Route 20), and experience the old growth forests, cascading waterfalls, and mountain scenery of North Cascades. Allow at least an hour to drive this stunning winding road. Add more time for stops along the way, including the Visitor's Centers for more info on visiting the park and things to do.
Mt. Baker-Snoqualmie National Forest
Experience old growth forests, scenic byways, lookouts, the Pacific Crest Trail, wilderness areas (Boulder River, Henry M. Jackson and Concrete Peak Wilderness) and a national recreation area. Enjoy water activities in one of the lakes or rivers including fishing, river rafting, boating and swimming or go climbing, hiking, backpacking, horseback riding, hunting, bird watching, OHV riding, snow skiing, snowboarding, snowmobiling and snowshoeing. Website
Hiking Trails
Here's a list of the best loved trails within roughly an hour or less from Concrete. Click on the trail name for directions and more info from the Washington Trails Association.
There's so much more to see and do!
In addition to the recreational opportunities above, be sure to visit the Recreation Category of our chamber business directory. There's several recreation outfitters who will help make your time in the North Cascades extra special. Concrete also features several "top site" attractions such as Silo Park, Concrete Theatre and more.