Welcome to Concrete, Washington
Reviving a 1960s Tradition: Holiday Lane is Back!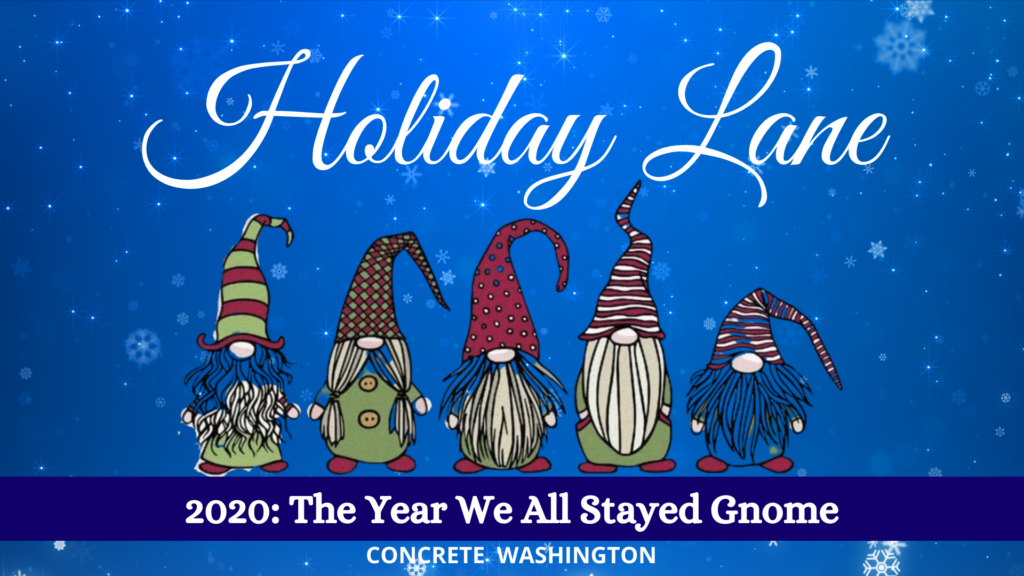 Holiday Lane
A Drive-Through Celebration
Saturday, December 12, 2020
6:00 – 8:00 p.m.
Main Street, Concrete, Washington
Everyone Invited to this Free Event
At Christmas time in the 1960s, the Upper Skagit Garden Club sponsored Holiday Lane, a popular decorating contest with entrants all over town vying for awards and bragging rights.  This year, the Concrete Chamber of Commerce is dusting off that tradition and bringing it back to life. We're even adding more fun to it!
Holiday Lane will take place Saturday, December 12, from 6:00 to 8:00 p.m. The event will feature a decorating contest just like in the 60s, with the special attraction of seeing Santa make his annual appearance. You will find Santa at the brightly lit Town Tree, located near the old fire hall on Main Street. Please see video below and photo of the Town Tree 2020 after its lighting on November 29.
A Drive Through Celebration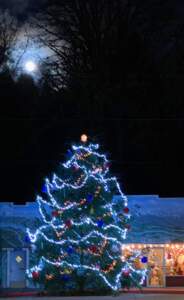 You're invited to drive through town on December 12 to enjoy the sights and sounds of the holidays from the comfort of your car. This event is a safe way to visit Santa and his friends, without any fear of spreading germs. You'll be able to drop off your letter to Santa and receive a souvenir gift in return, while supplies last. Along the way, there will be photo opportunities from your car windows — watch for the gnomes and elves (and there's a rumor that Olaf is joining us)! They will be giving out treats to each car as it slowly passes.
After seeing Santa, guests will refer to a map with designated homes, businesses, churches and organizations that have entered the Holiday Lane decorating contest.Our gnomes will provide these at the event, but you can also check back here to download a copy.
Our judges will award ribbons for best-decorated entries in residential, commercial and non-profit categories. There will be a special People's Choice Award, decided by the community. As you drive around to see the lighted displays, you're asked to vote via text message to (360) 941-0403. Or you can email your vote. Simply identify the home or business you think deserves the prize by typing in the title or address (refer to your map for info).
Decorating Contest
Enter to win! Download and complete the Holiday Lane Entry Form. Return it to the Concrete Chamber by mail (PO Box 743, Concrete WA 98237) or email, or drop it off at our office, located at 45770 Main Street. The People's Choice award winner will receive a pizza-per-month for a year from Annie's Pizza Station. While we'd like to see everyone lighting up the dark with their decorations this year, contest entrants should be located within a 10-mile radius of Concrete's Town Hall, 45672 Main St, Concrete.
Entries accepted from anyone within the radius shown on map: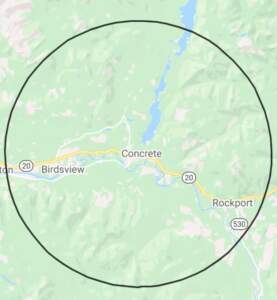 Holiday Lane is free and everyone is welcome to participate.  If you're coming from out of the area, why not spend the night? For local lodging information check here. The event is co-sponsored by the Town of Concrete and Imagine Concrete, and is partly funded by Skagit County.

Want to help plan and organize this event? Volunteers are invited to join our private Facebook group.
Stay Safe & Healthy

Before considering any travel within Washington State, look at a general summary of what's open in each phase of Safe Start. Visit the county status page to see which phase each county is in or information about modified phases.View and print the state highway map here.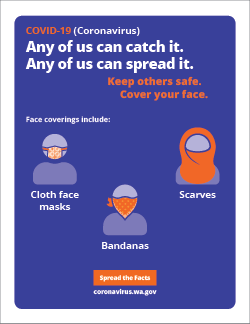 No matter which phase the county is in, staying home is still safest. If you do go out, remember: stay six feet apart, wear a face covering, wash your hands and stay local!
COVID-19 Community Update
Skagit County is Currently in Phase 2
Skagit County Services that are impacted by the Coronavirus can be found on their website at https://www.skagitcounty.net/Departments/HealthDiseases/coronavirus.htm. If you must go out, please limit physical contact, cover coughs and sneezes, wash your hands frequently (especially if handling cash), and practice social distancing. Please stay home if you do not feel well. Read more: Washington State official COVID-19 site
Watch: Keeping Each Other Safe
Featuring local performer and music teacher, Gretchen Hewitt
Produced by the Concrete Players for Change
Watch: I've Grown Accustomed
Featuring local performer and Concrete Mayor, Jason Miller
Produced by the Concrete Players for Change
---
Take a Tour of our Town We hope you're planning to visit our area soon! You'll find beauty in surprising places, including in our landmarks and historic relics. All you have to do is look around! Take a Walking Tour of our town.
– – – – – – – – – – – – – – – – – –
Do you live here? Wish you did? Are you a resident of Concrete, or looking to relocate? You'll find many resources here, including business listings, local events, and a host of activities – and Frequently Asked Questions.
You're also welcome to contact us anytime via email, phone or in person. See our office location and hours.
---
The Concrete Chamber meets monthly and welcomes the participation of all members and potential members. Chamber meetings are normally held the second Thursday of the month at 11:30 a.m. at Annie's Pizza Station. 
2020 Chamber Meetings are meeting online, via Zoom
Next Meeting: Thursday, September 10 at 11:30.
Please message for more details.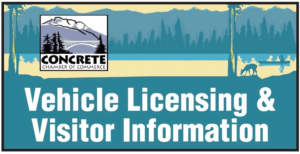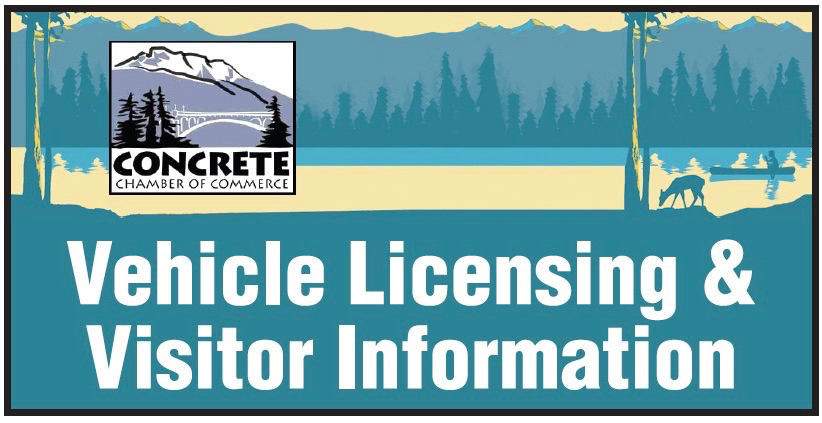 Services For information, call Office Manager, Valerie Lee, at (360) 853-8784. Stop by the East County Community Resource Center Office
Hours:
Mon-Fri: 10:00 am – 4:30 pm
Please continue to do as much online as you can.