Welcome to Concrete, Washington
Enjoy the scenery, special events and recreational opportunities of Eastern Skagit County.


CELEBRATE THE 4TH
Thursday, July 4, 2019
Poker Walk at 9:30 a.m.
Parade at 11:00 a.m.
Picnic in the park after the parade.
Join us for a small town patriotic celebration. Show your colors: wear red, white & blue!
Poker Walk starts at 9:30 a.m. at the Concrete Theatre, 45920 Main Street. Entry is free and you have 75 minutes to complete the course, stopping at 5 stations to get a poker card. The best poker hand returned to the starting point by 10:45 a.m. will win a prize.
Parade lines up at 10 a.m. near the Thompson Bridge (or on the other side, at the PSE parking lot, if desired). Parade starts at 11:00 a.m., traveling from east to west on Main Street. You're invited to join in at Town Center and follow the parade to Veteran's Memorial Park, where everyone will gather for lunch. Entry in the parade is free. Kids are eligible to win a prize.
Picnic begins after the parade, in Veterans' Memorial Park. Enjoy the Chamber-hosted BBQ (by donation), and/or bring your own picnic lunch. Live music provided by Wishbone Alley. Games, booths and entertainment in the park – everyone welcome!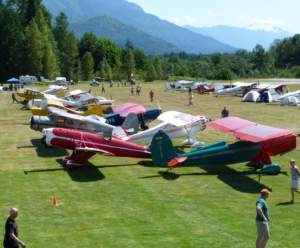 The annual Concrete Old-Fashioned Fly-In (formerly North Cascades Vintage Fly-In) has grown to become a favorite fly in for vintage, classic and antique airplane enthusiasts. Nestled in the foothills of the North Cascade mountain range in Washington state, the Concrete Old-Fashioned Fly-In draws numerous significant and interesting aircraft.The Fly-In not only appeals to vintage aircraft enthusiasts and locals enjoying the community, but also Skagit Valley visitors driving the Cascade Loop and visiting the North Cascades National Park find it an excellent festival stop on their vacation.Town of Concrete and Concrete Events are working to make this year's Fly-In the best ever.This year there will be a pancake breakfast hosted by Grasmere Fire Dept, food trucks, bluegrass band "Luck of the Draw" and most importantly — many vintage aircraft!
---
Take a Tour of our Town
We hope you're planning to visit our area soon! You'll find beauty in surprising places, including in our landmarks and historic relics. All you have to do is look around! Take a Walking Tour of our town.
Do you live here? Wish you did?
Are you a resident of Concrete, or looking to relocate? You'll find many resources here, including business listings, local events, and a host of activities – and Frequently Asked Questions.
You're also welcome to contact us anytime via email, phone or in person. See our office location and hours.
---
The Concrete Chamber meets monthly and welcomes the participation of all members and potential members. Chamber meetings will be held the second Thursday of the month, starting at 11:30 a.m. at Annie's Pizza Station.  To make sure you're informed in advance of each month's meeting, please contact the Chamber and ask to be notified.