Welcome to Concrete, Washington
Enjoy the scenery, special events and recreational opportunities of Eastern Skagit County.
Concrete Old-Fashioned Fly-In – July 12, 13, 2019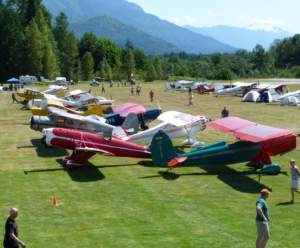 The annual Concrete Old-Fashioned Fly-In (formerly North Cascades Vintage Fly-In) has grown to become a favorite fly in for vintage, classic and antique airplane enthusiasts.
Nestled in the foothills of the North Cascade mountain range in Washington state, the Concrete Old-Fashioned Fly-In draws numerous significant and interesting aircraft.The Fly-In not only appeals to vintage aircraft enthusiasts and locals enjoying the community, but also Skagit Valley visitors driving the Cascade Loop and visiting the North Cascades National Park find it an excellent festival stop on their vacation.
Town of Concrete and Concrete Events are working to make this year's Fly-In the best ever.This year there will be a pancake breakfast hosted by Grasmere Fire Dept, food trucks, bluegrass band "Luck of the Draw" and most importantly — many vintage aircraft!
---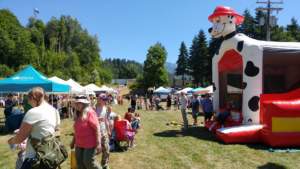 Concrete Youth Activity Day
Friday, July 12
11:30 a.m. – 3:00 p.m.
Veterans' Memorial Park
Come join the fun! Back for the 12th year Concrete Youth Activity Day is a fun and free event for families. Thanks to the generosity of community partners this event offers lunch, bouncy house, face painting, ice cream, snow cones, field activities, entertainment and more absolutely free! This event is a a great way to learn about programs and services available in Skagit County. If you want to be a community resource for this event you still have time. Please email for more info. Looking forward to seeing you there!
---
Kids are still learning how to navigate the world. They don't understand why some things are unsafe, so the responsibility of preparing them falls on parents like you. But what if you don't know how to prepare them for safety during the summer? Check out the Kids Summer Safety Guide from ASecureLife which addresses such questions as "How do I keep my kids safe in the car?" and "What are the chances of someone kidnapping my children?" when dealing with travel, crowds, strangers, swimming, and outdoors.
---
Take a Tour of our Town
We hope you're planning to visit our area soon! You'll find beauty in surprising places, including in our landmarks and historic relics. All you have to do is look around! Take a Walking Tour of our town.
Do you live here? Wish you did?
Are you a resident of Concrete, or looking to relocate? You'll find many resources here, including business listings, local events, and a host of activities – and Frequently Asked Questions.
You're also welcome to contact us anytime via email, phone or in person. See our office location and hours.
---
The Concrete Chamber meets monthly and welcomes the participation of all members and potential members. Chamber meetings will be held the second Thursday of the month, starting at 11:30 a.m. at Annie's Pizza Station.  To make sure you're informed in advance of each month's meeting, please contact the Chamber and ask to be notified.