Welcome to Concrete, Washington
Enjoy the scenery, special events and recreational opportunities of Eastern Skagit County.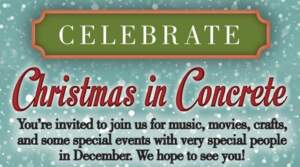 Saturday, December 7 — Celebrate with your friends, neighbors — and Santa & Mrs. Claus!
The fun starts at 6:00 p.m. at the Concrete Theatre. Enjoy a sing-a-long and short film (appropriate for kids 3 and up), then help cheer the arrival of Santa and Mrs. Claus as they join us from the North Pole.
Kids will get to chat with Santa and his elves, while family members snap photos.
Kids will also receive a gift, courtesy of SaviBank, while supplies last (hint: don't be late to this event!).
After everyone has talked with Santa, we'll follow him down the street to the Town Christmas tree. Please join in the singing and them hold your breath while the lights come on!!
This event is free. It's sponsored by the Town of Concrete, Concrete Chamber of Commerce, SaviBank and Concrete Theatre.
Special thanks to our many volunteers who help create the magic of Christmas in Concrete.
Then every full weekend in January…


---
Watch for these special events in 2020:
Mountain Film Festival: May 28-31, 2020
Mount Baker UltraMarathon: May 31-June 1, 2020

– – – – – – – – – – – – – – – – – –
Take a Tour of our Town
We hope you're planning to visit our area soon! You'll find beauty in surprising places, including in our landmarks and historic relics. All you have to do is look around! Take a Walking Tour of our town.
– – – – – – – – – – – – – – – – – –
Do you live here? Wish you did?
Are you a resident of Concrete, or looking to relocate? You'll find many resources here, including business listings, local events, and a host of activities – and Frequently Asked Questions.
You're also welcome to contact us anytime via email, phone or in person. See our office location and hours.
---
The Concrete Chamber meets monthly and welcomes the participation of all members and potential members. Chamber meetings will be held the second Thursday of the month, starting at 11:30 a.m. at Annie's Pizza Station.  To make sure you're informed in advance of each month's meeting, please contact the Chamber and ask to be notified.