Welcome to Concrete, Washington
There's a lot going on in Concrete! In addition to plenty of big changes in our Historic Town Center, see below, we have a full slate of unique events scheduled for 2022!
Mountain Film Festival
June 2-5, 2022 Welcome to Mountain Life
Mt. Baker Ultramarathon
June 4-5, 2022
Info: https://www.mtbakerultra.com
Fourth of July 2022
Sunday, July 4, 2022
3:00 – 5:00 p.m. Activities TBD
Contact the Chamber
Concrete Youth Activity Day 2022
July 14, 2022
Activities & Schedule TBD
Concrete Fly-In 2022
July 15-17, 2022
Mears Field
Contact the Chamber
Cascade Days 2022
August 20 & 21
Contact Cascade Days Association
Cascade Days website
Concrete Ghost Walk 2022
Saturday nights in October
Tickets are required in advance
Contact the Chamber
Murder Mystery Evening 2022
October 2022
Tickets are required in advance.
Contact the Chamber
Halloween Parade & Trunk-or-Treat 2022
Halloween, October 31 in Town Center
Contact the Chamber
Holiday Lane, Santa Parade & Gnome Festival 2022
December 9-11, 2022
In Town Center and throughout Concrete area
Contact the Chamber
For more information on our events, businesses or recreational opportunities, please contact the Concrete Chamber of Commerce at (360) 853-8784, or send an email to: chamber@concrete-wa.com.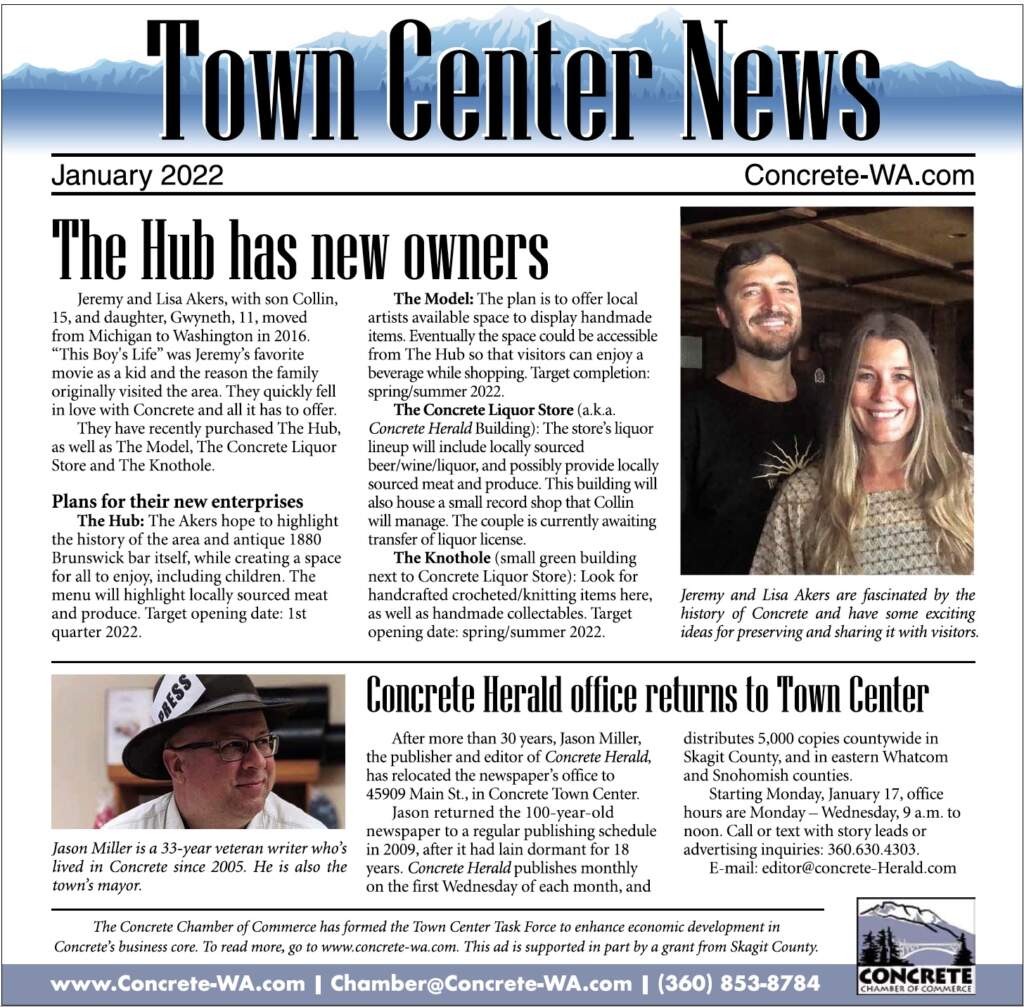 TOWN CENTER NEWS
The Hub has new owners
Jeremy and Lisa Akers, with son Collin, 15, and daughter, Gwyneth, 11, moved from Michigan to Washington in 2016. "This Boy's Life" was Jeremy's favorite movie as a kid and the reason the family originally visited the area. They quickly fell in love with Concrete and all it has to offer. They have recently purchased The Hub, as well as The Model, The Concrete Liquor Store and The Knothole.
Plans for their new enterprises
 The Hub: The Akers hope to highlight the history of the area and antique 1880 Brunswick bar itself, while creating a space for all to enjoy, including children. The menu will highlight locally sourced meat and produce. Target opening date: 1st quarter 2022.
The Model: The plan is to offer a local artists available space to display handmade items. Eventually the space could be accessible from The Hub so that visitors can enjoy a beverage while shopping. Target completion: spring/summer 2022
The Concrete Liquor Store (a.k.a. Concrete Herald Building): The store's liquor lineup will include locally sourced beer/wine/liquor, and possibly provide locally sourced meat and produce. This building will also house a small record shop that the Akers' son will manage. The couple is currently awaiting transfer of liquor license.
The Knothole (small green building next to Concrete Liquor Store): Look for handcrafted crocheted/knitting items here, as well as handmade collectables. Target opening date: spring/summer 2022.
Concrete Herald office returns to Town Center
After more than 30 years, Jason Miller, the publisher and editor of Concrete Herald, has relocated the newspaper's office to 45909 Main St., in Concrete Town Center.
Jason returned the 100-year-old newspaper to a regular publishing schedule in 2009, after it had lain dormant for 18 years. Concrete Herald publishes monthly on the first Wednesday of each month, and distributes 5,000 copies countywide in Skagit County, and in eastern Whatcom and Snohomish counties.
Starting January 17, office hours: Monday – Wednesday, 9 a.m. to noon. Call or text with story leads or advertising inquiries: 360.630.4303. E-mail: editor@concrete-herald.com
– – –
The Concrete Chamber meets monthly and welcomes the participation of all members and potential members. Please subscribe to the email list for meeting notifications or send a message to Valerie Stafford, Chamber President, for information on the date, time and location of the next meeting.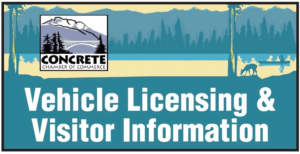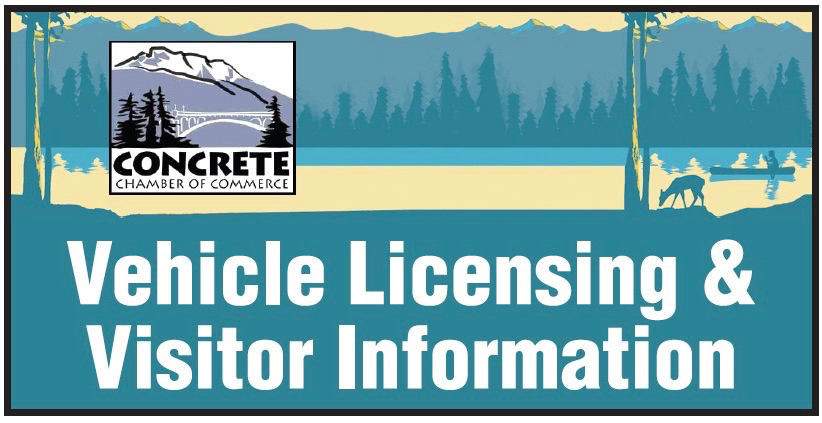 Our Licensing & Info Services
For information, call Office Manager, Valerie Lee, at (360) 853-8784. Stop by the East County Community Resource Center Office
Office Hours:
Monday through Friday: 10:00 am – 4:30 pm (lunch closure from 1:00 – 1:30 pm)
Saturday: 9:00 am – 12:30 pm