Welcome to Concrete, Washington
Welcome to the latest information and resources based in Concrete, Washington. Currently, we're excited to be bringing you the 2018 Skagit Eagle Festival — a month-long celebration during eagle-watching season in eastern Skagit County. Activities take place in Concrete, Rockport and Marblemount every full weekend in January. Please read all about it and plan to visit.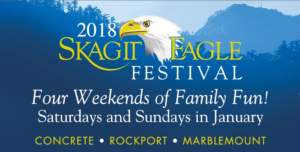 While the North Cascades Highway is closed for the winter, Concrete, Rockport and Marblemount are open as always, and this is an amazing time of year to enjoy outdoor activities and the incredible scenery of our area. Great lodging and dining options make Concrete a natural stop-over.
Do you live here? Wish you did?
Are you a resident of Concrete, or looking to relocate? You'll find many resources here, including business listings, local events, and a host of activities – and Frequently Asked Questions.
You're also welcome to contact us anytime via email, phone or in person. See our office location and hours.