Welcome to Concrete, Washington
Enjoy the scenery, special events & recreational opportunities of Eastern Skagit County.

Events Saturday & Sunday in January
The Skagit Eagle Festival will once again be attracting thousands of visitors to eastern Skagit County for four weekends during January 2020. Festival events will be held on Saturdays and Sundays from January 4 through January 26.
Events are planned at venues in Concrete, Rockport, and Marblemount, including:
• 5k Salmon Run & Nature Walk at Ovenell's Ranch in Concrete.
• Eagle-watching stations in Rockport and Marblemount, staffed by trained volunteers.
• Events and activities at the Skagit River Bald Eagle Interpretive Center in Rockport.
• Deep Forest Experience guided walks at Rockport State Park.
• Photography workshops at the historic Concrete Theatre.
• Hayrides and campfires at Ovenell's Ranch in Concrete.
• Native American history, storytelling & more in Marblemount.
• Bald eagle float trips along the Skagit River, provided by local tour companies.
• Birds of Prey presentation in Concrete, by Sarvey Wildlife Care Center.
The festival kicks off with the 6th Annual Salmon Run on Saturday, January 4 at 10:00 a.m., held at Ovenell's Double O Ranch in Concrete. Entrance fee for the 5k run is $20; a free nature walk is available from 9:30 to 11:00 a.m.
Activities and events are held every weekend, 10:00 a.m. – 4:00 p.m., at the Skagit River Bald Eagle Interpretive Center, located at Howard Miller Steelhead Park – 52809 Rockport Park Road in Rockport. Visitors can learn about eagles, watershed issues, and local, natural and cultural history. The Center provides guided hikes and a speakers series; its Nature Store features books, jewelry, calendars, and more.
Two photography workshops are open to the public and being held at the historic Concrete Theatre, located at 45920 Main Street in Concrete. On Saturday, January 18 at 11:00 a.m., Andy Porter will present, "Night Sky Photography," and on Saturday, January 25 at 11:00 a.m., Leah Serna will present, "Furs, Fins & Feathers." (photo credit: Leah Serna)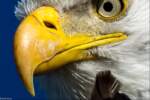 On January 11 & 12, we will celebrate the Native American culture, with special activities, entertainmentand food at the Marblemount Community Hall, at 60055 State Route 20. Indian tacos and fry bread will be available for purchase while visitors can enjoy performances by Lisa Temcov, Andy Koch, and many others.
The festival is capped by a special Birds of Prey presentation by Sarvey Wildlife Care Center  held at the Concrete Elementary School gymnasium (please note venue change) on Saturday, January 25 at 11:00 a.m., 1:00 p.m. and 3:00 p.m.
The Skagit Eagle Festival is coordinated by the Concrete Chamber of Commerce, in partnership with the Skagit River Bald Eagle Awareness Team, which operates the Interpretive Center in Rockport. The festival is sponsored in part by a grant from Skagit County.
"It just wouldn't be winter without the Skagit Eagle Festival – the event provides a wonderful experience for families from all over the region," said Valerie Stafford, president of the Concrete Chamber of Commerce. "It's also an important piece of our economic development program. We look forward to welcoming visitors at our local businesses."
Festival organizers remind visitors to prepare for winter weather, including warm, waterproof clothing and an appropriately equipped vehicle. See the directory of services and businesses to make your visit more enjoyable.
---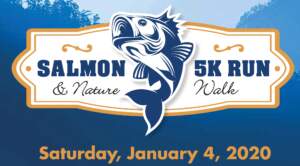 Kick off the 2020 Skagit Eagle Festival by participating in our annual Salmon Run and Nature Walk, a unique 5K trail run that takes you through a beautiful ranch and along the Skagit River. Entry fee of $20 includes a knit fleece-lined hat or neck gaiter, healthy snacks, bonfire and cocoa. (download your registration form early here)
Not a runner? Join in a free family-friendly nature walk to look for eagles, osprey, deer, elk, and beaver. Please remember trail etiquette and stay to the right allowing others to pass. Also, pets must remain in your vehicle and are not allowed on the trails.
Co-Sponsored by Concrete Chamber of Commerce, Ovenell's Heritage Inn, and Community Bible Church of Concrete.
We look forward to seeing you on the trail!
---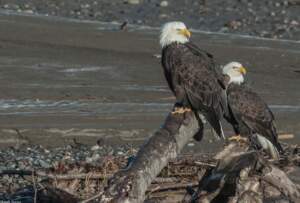 Eagle count updated by Skagit River Bald Eagle Interpretive Center at skagiteagle.org
A weekly eagle count for the stretch of the Skagit River from Marblemount to Rockport is provided, thanks to Mt. Baker-Snoqualmie National Forest staff.
The count includes only eagles that are seen by experienced personnel and includes those seen in areas inaccessible to the general public. During the peak viewing season of mid-December to late January, you might be able to see as many as 100 eagles from Highway 20.
Photo by Leah Serna
---
Watch for these other special events in 2020:
Mountain Film Festival: May 28-31, 2020
Mount Baker UltraMarathon: May 31-June 1, 2020

---
Take a Tour of our Town
We hope you're planning to visit our area soon! You'll find beauty in surprising places, including in our landmarks and historic relics. All you have to do is look around! Take a Walking Tour of our town.
– – – – – – – – – – – – – – – – – –
Do you live here? Wish you did?
Are you a resident of Concrete, or looking to relocate? You'll find many resources here, including business listings, local events, and a host of activities – and Frequently Asked Questions.
You're also welcome to contact us anytime via email, phone or in person. See our office location and hours.
---
The Concrete Chamber meets monthly and welcomes the participation of all members and potential members. Chamber meetings will be held the second Thursday of the month, starting at 11:30 a.m. at Annie's Pizza Station.  To make sure you're informed in advance of each month's meeting, please contact the Chamber and ask to be notified.