Welcome to Concrete, Washington
Join us for the Haunted Town Tours
October 23 & 30, 2021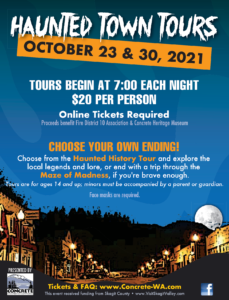 These special tours are presented by the Concrete Chamber of Commerce, in partnership with local businesses and the Town of Concrete. They combine our annual ghost walk, featuring characters and legends from the past, along with two different endings (you choose!), for a personalized experience.
Haunted Town Tours
Saturdays, October 23 & 30, 2021
Tours start at 7:00 p.m. each night
Town Center, Concrete, Washington
TICKETS
$20 per person

Note: When purchasing your ticket, be sure to use the drop-down menu to select the start date and time you desire, and CHOOSE YOUR ENDING*! Each tour is approximately 40 minutes long.

COVID-19 POLICY UPDATE:
To ensure the safety of all of our participants during the HAUNTED TOWN TOURS, proof of vaccination will be required at check-in. Please bring along your vaccination card, or show it to our event staff on your mobile device. We regret any inconvenience this may cause, and will refund any tickets already purchased, if necessary.
Face masks will need to be worn throughout the event. Please wear a mask that covers your nose and mouth.
OTHER SAFETY MEASURES:
We'll be limiting the amount of time our tours will be indoors.
Social distancing will be encouraged while indoors.
Hand sanitizer will be available at entrances.
Please do not attend if you are not feeling well. Your ticket purchase will be refunded if you need to cancel.
Thank you for understanding and for helping us keep our community safe.
Travel back in time to the early 1900s, when Concrete was a lawless village of miners, loggers, mill-hands and cement plant workers. Where there were more brothels than churches, and plenty of hardworking, hard-living characters. Those people are long gone, dead and forgotten…or are they? On some October nights, you'll see evidence to the contrary. Get ready to journey into a world of creepiness as you experience Concrete's haunted walking tour!
You'll start your tour near the Concrete Chamber Office, located in the East County Resource Center, 45770 Main Street in Concrete. Our greeters will get you started, remind you of safety precautions and send you on your way into the haunted town. We hope you make it out on the other side. Tickets are limited and timing is important. Please be in line on time. Early arrivals will need to wait; late arrivals may have to forfeit their tour. Thanks for understanding.
* CHOOSE YOUR ENDING
When purchasing your ticket, you have a choice between two endings: you'll visit the HAUNTED MUSEUM at the end, or you'll be escorted through the MAZE OF MADNESS to end your night in Concrete. Choose wisely, the museum is historic and creepy, the maze is downright crazy and NOT for the faint of heart.

Remember to use the pull-down menu before purchasing your ticket. Choose the date, time and ending!

FAQ:
Q. How does the tour work?
A. Choose your night and time, choose your ENDING. Then arrive at the time you've purchased a ticket for. Check in using a paper ticket that you've printed or show us the confirmation on your phone.
Q. Is this event appropriate for young children?
A. The tours are designed for ages 14 and older. Younger children may be frightened by some of the characters, costumes and scenes being depicted.
Q. Are masks required?
A. Yes. Parts of the tour take place inside our haunted buildings.
Q. Can someone in a wheelchair or using a walker navigate the tour?
A. Some parts can be accessed, but a lot of the tour includes uneven pavement and steps. If you'd like help with accommodations, please contact us at chamber@concrete-wa.com before purchasing tickets.
---
The Concrete Chamber meets monthly and welcomes the participation of all members and potential members. Due to Covid, meeting times and formats have changed. Please subscribe to the email list for meeting notifications or send a message to Valerie Stafford, Chamber President, for information on date, time and location of the next meeting.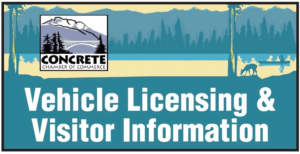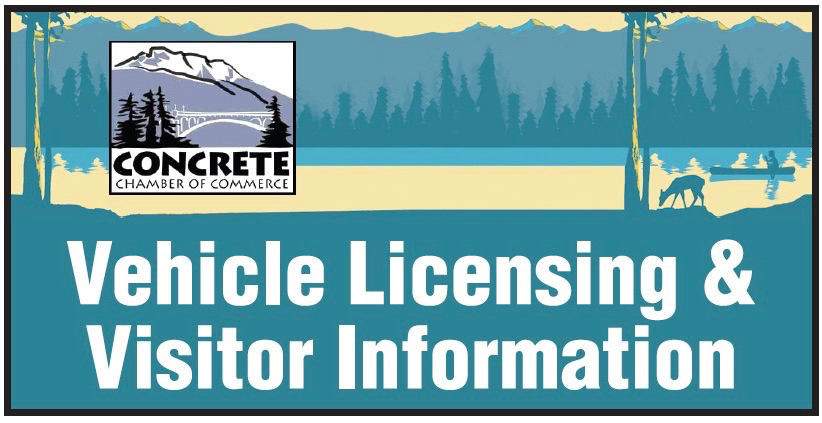 Our Licensing & Info Services
For information, call Office Manager, Valerie Lee, at (360) 853-8784. Stop by the East County Community Resource Center Office
Office Hours:
Monday through Friday: 10:00 am – 4:30 pm (lunch closure from 1:00 – 1:30 pm)
Saturday: 9:00 am – 12:30 pm