Welcome to Concrete, Washington
What's Happening Right Now?
Novel Coronavirus (COVID19) Outbreak Community Update
Governor Jay Inslee has issued a "Stay-at-Home" proclamation for the State of Washington for the next two weeks.  You're still allowed to go outside, to the grocery store, and to do other essential business.
Businesses have 48 hours to close following the signing of the proclamation.
Grocery stores, pharmacies, gas stations, health care services, child care providers, transportation, financial services, the defense industry, critical local government operations, and media are considered essential. To-go and delivery from restaurants will still be allowed. Inslee's office provided a full list of industries that are essential, building on the federal government's and California's definition of Essential Critical Infrastructure Workers.
Skagit County Services that are impacted by the Corona Virus can be found on their website at https://www.skagitcounty.net/Departments/HealthDiseases/coronavirus.htm.
If you must go out, please limit physical contact, cover coughs and sneezes, wash your hands frequently (especially if handling cash), and practice social distancing. Skagit County requirements for social distancing can be found farther down the page. Please stay home if you do not feel well.
Washington State official COVID-19 site
East County responses (updated as information becomes available):
The Cold Weather Overnight Shelter is closed.
Community Action (East County Resource Center):
-Open regular hours (9:00am – 3:00pm) — inner door is locked but they are open
-Social distancing compliance is being achieved by serving one person at a time. Please be patient. If one person is already being assisted, you will be asked to wait outside.
-Some services are limited. Call ahead if possible 360.416.1733
-DSHS services are suspended until further notice. Call 1.877.501.2233 for assistance
-Meals from the Concrete Center are available on a to-go basis from 11:45 am-12:45 pm.
-Tax preparation services by AARP are no longer available at this site.
Vehicle Licensing/Chamber of Commerce:
-Closed to in-person services
-Tabs (mail option only) can be renewed and vehicle reports of sale can be completed online at dol.wa.gov. Choosing Concrete Chamber of Commerce as your service office keeps revenue in our community.
-Tabs can be renewed online and picked up at Skagit Auto Licensing in Burlington (by Burlington-Edison High School) via their drive-thru. 360.755.0419
-In-person services can be obtained by appointment only at the Skagit Auto Licensing in Burlington. 360.755.0419
Upper Skagit Library:
-Closed until April 24,2020
-Materials may be renewed online at https://upperskagitlibrary.org/web/usl/resources/
SaviBank:
-Open regular hours with restricted access
-Use DRIVE UP as much as possible.
-If you must enter the building, please try to call ahead and make an appointment. 360.853.8171
Albert's Red Apple Market:
-Open regular hours
-Sanitizing wipes available at the door
Annie's Pizza Station
-Open regular hours (Tues-Sat) for take out 360.853.7227
-LIMITED delivery service:
–Available Wed-Sat: 3:00pm – 8:00pm
–Delivery area: Grandy Creek Grocery to Rockport Store; Cape Horn, Cedargove, and Lake Tyee gate.
–Minimum $30 order PLUS $8 delivery fee
Perks Espresso & Deli:
-Closed until further notice.
:
-Open regular hours
Cascade Burgers:
-Open regular hours for drive-thru and take out
-Call 360.853.7580 to order
-Outdoor seating is available
5b's Bakery:
-Closed retail and suspended regular production until March 21,2020
-Shipping orders and wholesale orders will continue to be filled to the best of their ability. You may order product through their website, 5bsbakery.com
-Upon re-opening, take-out only
Lone Star Restaurant & Waterin' Hole:
-Open 7:00 am – 8:00 pm for carry-out or delivery
-Call 360.853.8800 to order
-Delivery area includes all of Concrete up to 5 miles out
:
-Open Mon-Sat 8:30 am – 5:00 pm
Concrete Theatre/Encore Fitness:
-Closed until further notice
Concrete Self-Storage:
-Open with limited in-person contact
-Services available online at www.concreteselfstorage.com include new unit rental, rental payments, and downloading forms
-Staff is available to assist you – email concrete@coastmgt.com or call 360.853.8100. Voicemails are answered promptly.
Concrete Laundromat:
-Open regular hours
-Please remember to maintain a distance of 6 ft from other people.
-Clean up after yourselves (so Don and Della don't have to)
Residents, businesses, and organizations of Skagit County must observe certain social distance requirements.
*On-site consumption of food or beverage services are temporarily prohibited, including but not limited to:
Restaurants
    Food courts
    Bars and taverns
    Wine, beer and spirits tasting venues
    Doughnut shops and ice cream parlors
    Coffee shops
    Sit-down airport restaurants and bars
*Take-out, delivery and drive-thru food and beverage services are not banned under the proclamation.
*On-site food service and other related activities are permitted for childcare services and school-based food programs for K-12 schools.
Concrete School District will not be in session until at least April 24, 2020 but food services are being provided by delivery.
*Grocery stores and pharmacies will remain open.
*Certain recreation, entertainment, and leisure services are temporarily prohibited, included by not limited to:
    Theaters
    Bowling alleys
    Gyms and fitness centers
    Non-tribal card rooms
    Museums
    Art galleries
    Tattoo parlors
    Barbers, hair salons and nail salons
***All other retail businesses must ensure adequate environmental cleaning of stores and must designate an employee or officer to implement a social distancing plan.
***All gatherings – informal and formal – over 50 people are banned.
***All gatherings with under 50 participants are prohibited unless certain public health criteria are met. Please contact Skagit County Public Health for guidance at 360-416-1500 if you plan to hold any gathering outside of your immediate household members.
2020 Census: Take 10 minutes to answer 20 questions.
The Census provides a snapshot of our nation. Data is used to determine the allocation of Federal Funding that help support our schools, veterans, senior citizens, hospitals, fire departments, roads, bridges, and other resources like Medicaid, Student Loans, Housing Loans, the National School Lunch Program, Head Start, and WIC. Also, the results of the census determines our representation in Congress.
Everyone counts, regardless of citizenship status. Answers are confidential and will not be shared with other government agencies.
The Census can be completed by mail, online, or by phone. Each home will receive an invitation in the mail between March 12 – 20. Census day is April 1, 2020.  If you do not complete your census form, an enumerator will be visiting your residence in May.  Interested in helping with the Census?  Check their website https://2020census.gov/en/jobs.html
---
Watch for these other special events in 2020:
Mountain Film Festival: May 28-31, 2020
Mount Baker UltraMarathon: May 31-June 1, 2020

---
Take a Tour of our Town
We hope you're planning to visit our area soon! You'll find beauty in surprising places, including in our landmarks and historic relics. All you have to do is look around! Take a Walking Tour of our town.
– – – – – – – – – – – – – – – – – –
Do you live here? Wish you did?
Are you a resident of Concrete, or looking to relocate? You'll find many resources here, including business listings, local events, and a host of activities – and Frequently Asked Questions.
You're also welcome to contact us anytime via email, phone or in person. See our office location and hours.
---
The Concrete Chamber meets monthly and welcomes the participation of all members and potential members. Chamber meetings are generally held the second Thursday of the month, unless otherwise noted, starting at 11:30 a.m. at Annie's Pizza Station.  To make sure you're informed in advance of each month's meeting, please contact the Chamber and ask to be notified.
2020 Meeting Schedule:
January 9 at Annie's Pizza Station
February 13 at Annie's Pizza Station
March 5 at the Concrete Theatre
Cancelled April 9 at Annie's Pizza Station
May 14 at Annie's Pizza Station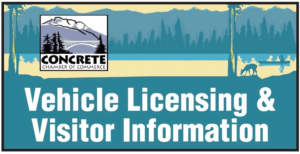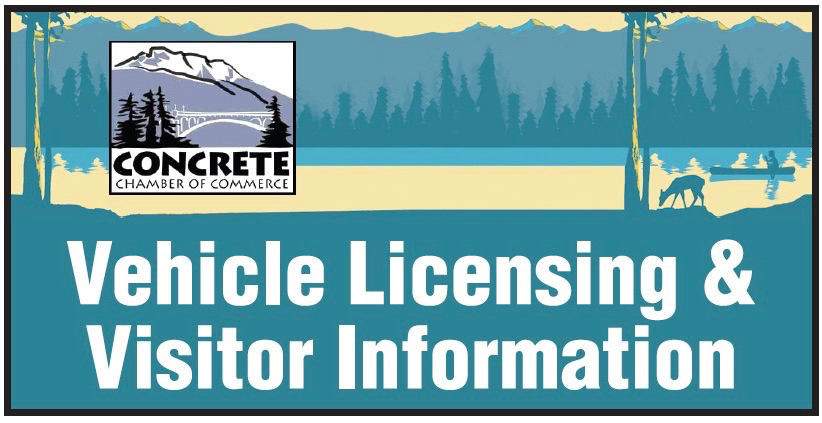 Services
For information, call Office Manager, Valerie Lee, at (360) 853-8784.
Stop by the East County Community Resource Center
Office Hours:
Monday through Friday, 9 a.m. to 4:30 p.m.
(Closed between 1:00 to 1:30 p.m.)
Saturdays, 9 a.m. to 1:00 p.m.
Vehicle Licensing Services: Monday through Friday, 9 a.m. to 4:30 p.m.
• title transfers
• registration renewals / updates / lost titles
Northwest Forest Pass
Annual: $30 Day: $5