Cascade Days Returns to Concrete, August 2023!
The Concrete Chamber of Commerce is proud to announce this year's event will once again be held on the third weekend in August. Community members, business owners, and town leaders reacted to save the tradition of Cascade Days. The tradition of Cascade Days goes all the way back to the 1930s. According to past issues of the Concrete Herald and Skagit Valley Herald, Cascade Days grew from a campaign to build a highway connecting Skagit County to Okanogan County. Meetings to promote the road were attended by prominent state and national figures, and one of the meetings turned into a celebration with a parade. Cascade Days was born.
JOIN US – Cascade Days! August 18 & 19, 2023
Learn more about each of the main events via the pages below!
Want to be part of the fun? See below for vendor, sponsorship, parade entry, and food contest forms!
SCHEDULE OF ACTIVITIES
Friday Night Activities – Learn More
Veterans Memorial Park
5:00-6:00 p.m. BBQ Dinner
6:00-8:00 p.m. Adult Softball Game
6:00-8:00 p.m. Water Play in the Park
6:00-8:00 p.m. Pickleball Game
Main Street / Town Center
7:00-8:00 p.m. Free Show at Concrete Theatre: Concrete History & CHS Alumni Photos
8:00 p.m. HOCKETT, a horror movie filmed in Concrete
6:00-10:00 p.m. Beer Garden at The Hub
6:00-8:00 p.m. Live Music at The Hub: Ian Jones
9:00-10:00 p.m. Live Music at The Hub: Undecided
8:00-9:00 p.m. Street Dance & Swing Dance Lessons
Saturday, August 19th Activities
Main Street / Town Center
11:00-12:00 p.m. Parade – learn more
12:00-4:00 p.m. Car Show – learn more
12:00-4:00 p.m. Concrete Heritage Museum open
12:00-4:00 p.m. Poker Walk starting at the Hub
4:30-5:00 p.m. Duck Race
Veterans Memorial Park
10:00 a.m. – 5:00 p.m. Vendors – interested in becoming a vendor? Download Vendor Form OR Fill out Vendor Form Online.
10:00-5:00 p.m. Cascade Days Information Booth
12:00-5:00 p.m. Kids Activities
12:00-5:00 p.m. Trout Pond
1:00, 2:30, 4:00 p.m. Logging Show
1:30-2:30 p.m. & 3:00 – 4:00 p.m.Firemen's Muster
Community Center
10:00 a.m.-4:00 p.m. Saturday Market
1o:00 a.m.-2:00 p.m. Food Contests – interested in entering? Download Contest Form or fill out an entry form online!
2:00-3:00 p.m. Bake Walk
3:00-3:30 p.m. Pie Eating Contest
3:30-4:00 p.m. Watermelon Eating Contest
Silo Park
1:00 p.m. All CHS Class Reunion – learn more
1:00-5:00 p.m. Field Games
1:00-5:00 p.m. Petting Zoo
Puget Sound Energy Club House Museum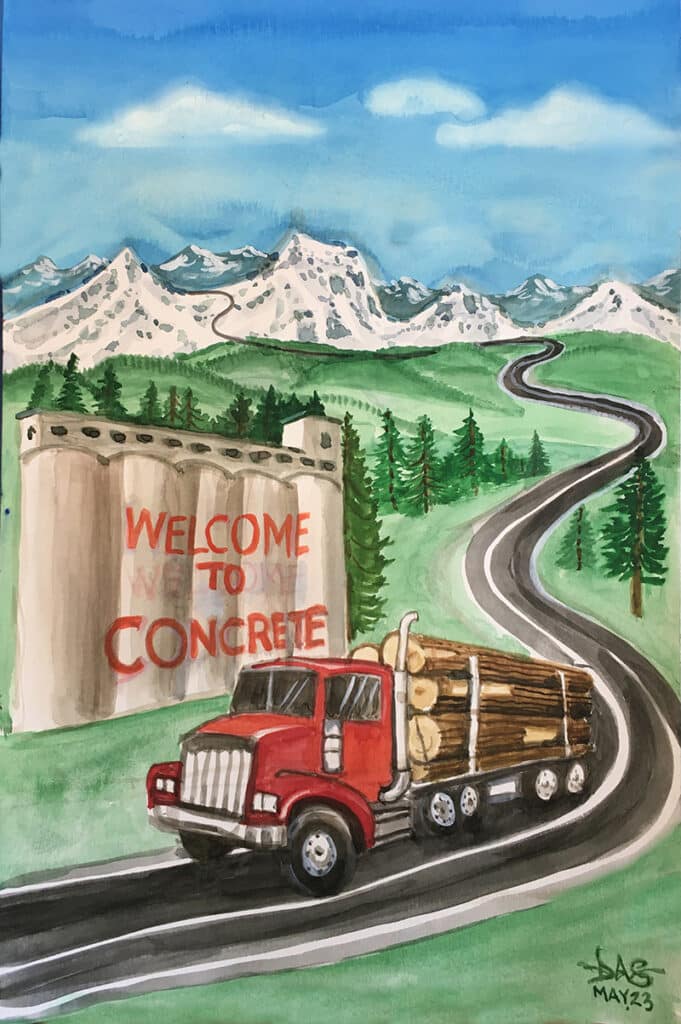 When it came time to select a logo for Cascade Days, we went back to the drawing board. Over the years, there have been a number of different images used. We wanted one that captured the true spirit of the celebration: the fact that there's a lot of history in these hills, and an equal amount of vibrant optimism growing here.
We wanted the logo to capture the essence of logging and cement plant days, but just as important as those largely bygone industries, we wanted to feature the mountains with the HIGHWAY going through them.
So we turned to our most famous local artist, Don Smith. We asked him to look at the elements of past logos and create an image that was fresh and bright. That's what this year's celebration will be!
Shown here is the original water color Don created. You'll see this image on some of our materials (maybe even coffee mugs!), along with the familiar round (button shaped) logo.
Thanks, Don, for blending the old with the new and giving us an image that sets the tone for Cascade Days 2023.
Special Thanks to our 2023 Cascade Days Sponsors: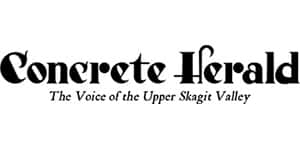 Concrete Herald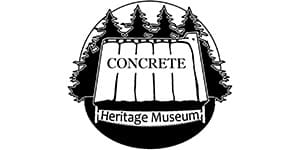 Concrete Heritage Museum
Janicki Industries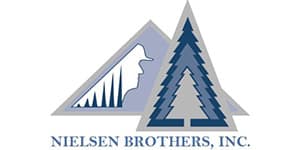 Nielsen Brothers, Inc.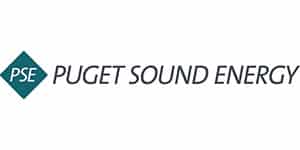 Puget Sound Energy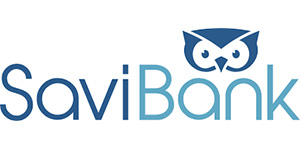 SaviBank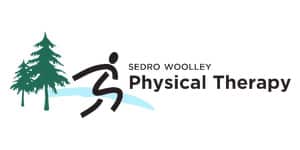 Sedro-Woolley Physical Therapy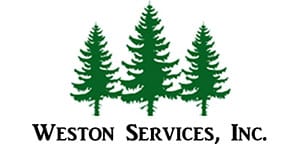 Weston Services, Inc.
Additional Sponsors Include Annie's Pizza Station, Double O Ranch, Lemley Chapel, Loggerodeo, Loggers Landing, Lone Star Restaurant & Water'n Hole, Mike Hawkings Trucking, Northwest Propane LLC., Rallye Auto Sales Inc., and Sierra Pacific Industries. Thank you, sponsors! We couldn't do it without you!