Cascade Days Returns to Concrete, August 2023!
The Concrete Chamber of Commerce is proud to announce this year's event will be held on the third weekend in August, 2023. After previous organizers announced they would be dissolving their nonprofit organization, the future of Cascade Days seemed uncertain. Community members, business owners, and town leaders reacted to save the tradition of Cascade Days.
MARK YOUR CALENDAR – Cascade Days! August 18 & 19, 2023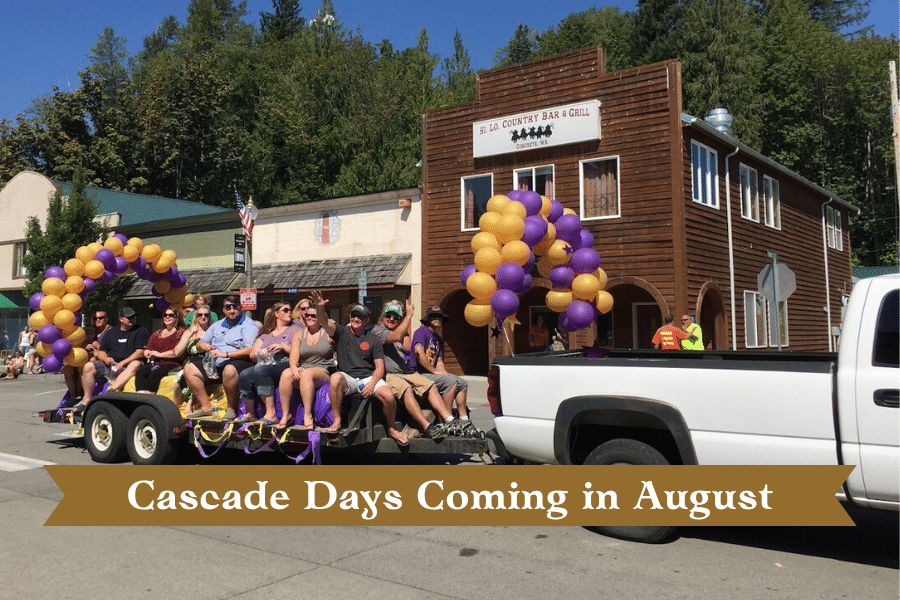 "We didn't want to see this popular community event go away," said Cheryl Weston, a member of the Chamber board of directors who has agreed to become the event chairperson. "Cascade Days is important to our local families and businesses. It's also the weekend during which most Concrete High School class reunions are scheduled."
In addition to the parade, other activities during Cascade Days are also part of the town's history. A car show featuring classic vehicles lines Main Street each year to remind us of the days when American automobiles dominated the world market, and Concrete's mainstay industries of cement manufacturing and logging were still alive. "The parade, car show and class reunions will remain the centerpieces of this event," remarked Weston.
Volunteers are vital to the event. Questions can be asked via email and text, and anyone wishing to participate in any capacity can sign up during either of the meetings.
More info and pages coming soon, in the meantime, read our recent Cascade Days blog post for more info, take a quick survey to share your ideas, and subscribe to our email updates so new info lands in your inbox!