Learn More About Concrete Washington History
Early settlers came to the Baker River in 1871, originally calling the settlement on the west bank "Minnehaha." Concrete Washington History began in 1890, when the town-site was platted by Magnus Miller. A post office was set up, and the name "Baker" was adopted.
On the east bank of the river, the community that sprang up around the Washington Portland Cement Company (1905) was named "Cement City." After the Superior Portland Cement Company plant (1908) was built in Baker, it was decided to merge the two towns, and in 1909, after much discussion, the new community settled on the name "Concrete."
Concrete's Main Street Buildings & Fire
Prior to 1921, several fires destroyed most of the original wooden buildings which had lined Main Street. Since concrete was in ample supply, it was decided that subsequent commercial buildings would be made from this nonflammable material. Historic plaques on many of the buildings list their construction dates. Three of the oldest wood frame structures which escaped the fires include the Baker Street Grill, the Assembly of God Church, and town hall. The Main Yard, near Silo Park, is the only surviving wooden structure of a business district called Superior Addition.
View our Top Sites page for more info on area sites to view.
Photos From the Past: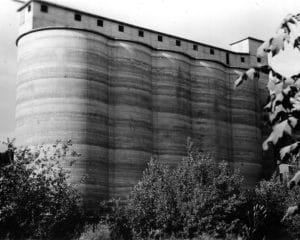 Photos Courtesy the Concrete Heritage Museum website. To explore more our past and to view many more photos, please visit the Concrete Heritage Museum or the Skagit River Journal.