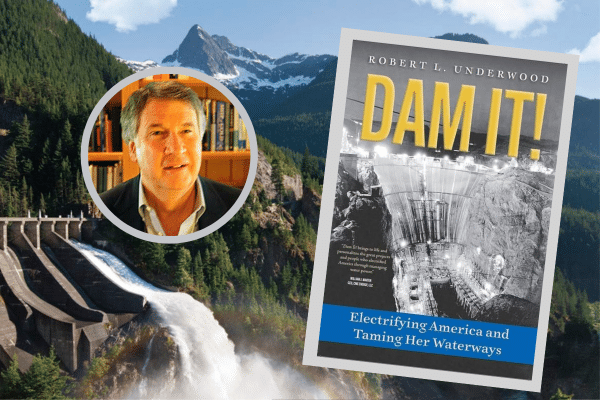 Saturday, September 16
Join us as we explore the fascinating history of hydropower in the United States, including in our backyard! Bob Underwood's new book, Dam It! Electrifying America and Taming Her Waterways offers a riveting account of how dams restructured our landscape, powered our country, and became symbols of Americans' resourcefulness and mastery over nature.

Bob is a gifted storyteller who'll walk us through natural and manmade disasters, wars, cutthroat politics, financial wheeling and dealing, and bitter power struggles. Bob's grandfather, legendary dam builder George Jessup, managed the construction of Lower Baker Dam in Concrete.
Bob's talk will be augmented by presentations from Puget Sound Energy and Seattle City Light. His book will be available for purchase. The free event is sponsored by the Concrete Heritage Museum, Concrete Chamber of Commerce, Puget Sound Energy, Seattle City Light, and Concrete Theatre.
For more information about the event, please contact the Concrete Chamber at chamber@concrete-wa.com.
ABOUT THE BOOK
Dam It! Electrifying America and Taming Her Waterways was published on March 7, 2023, by Coloma Press.
Underwood's multi-faceted understanding of energy development is complimented by his familial connection to dam construction, lending a clarity of vision to the story told in Dam It!

Featuring 165 stunning photographs, including images of the original Niagara Falls Power Station, rare photos of historical figures, and the construction of hydropower projects, Dam It! provides readers with a compelling look into a world shaped by innovation.
Bob Underwood comes to authorship from a life influenced by technology-based business. With a doctorate in engineering from Stanford University and an MBA from Santa Clara University, Underwood has charted a course through venture capital and private equity work, as well as climate change and renewable energy matters; in addition, he is a long-time past member of the National Science Foundation's Advisory Committee on Industrial Innovation.
"The more I investigated the history of hydropower, the more I realized the story of hydropower is a dam good one, rivaling that of any transformational technology we have seen arise from Silicon Valley," says the author. "Eccentric inventors, financial wheeling and dealing, political intrigue, mind-boggling engineering, and construction feats, inspiring personal stories … it's all there."