Come Celebrate the 4th of July in Concrete, WA!
Each year the community and visitors gather together in Concrete, Washington, to celebrate America's Independence. The Concrete Chamber of Commerce and local businesses invite you to celebrate with us! The parade starts at 3 p.m. in Town Center, followed by a DIY picnic and party at Silo Park! Complimentary snacks are available. Prizes are awarded for the best-dressed and best-decorated parade entries!
MARK YOUR CALENDAR – 4th of July in Concrete is Tuesday, July 4, 2023, at 3:00 pm!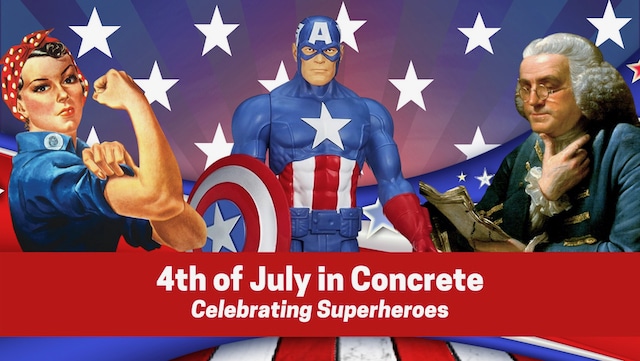 4th of July Details & Activities:
On the 4th of July in Concrete, we celebrate SUPERHEROES! Those include the earliest leaders who won our independence and all the heroes who help us remain safe and free. If there's a hero you want to honor, whether they're a military service person, a Marvel movie star, or a local firefighter, medic, or ambulance driver – let's celebrate them!
4th of July Highlights Include:
Bubbles by the Bubble Guy
Free flags for the photo opp
Free watermelon and cookies
Janie Lee Kelley, DJ, and vocalist
Spray Park (please wear shoes)
Playground and skate park
Bring a picnic and enjoy seeing your friends
The 4th of July Parade:
SUBMIT YOUR PARADE ENTRY FORM
The parade begins at 3:00 p.m., and all entrants are welcome! Please note: Parade will line up at 2:30 in the Puget Sound Energy parking lot on the other side of the river (cross over the Thompson Bridge and get in line!), and travel WEST on Main Street to Silo Park, parking behind or near the Superior building. Questions? Contact the Chamber office via email: chamber@concrete-wa.com or text: (360) 466-8754.
There's no cost to enter the parade. Prizes will be awarded in several categories.
Submit your entry online or download a Parade Entry Form!
These SUPERHEROES are sponsoring the event:

The Hub
Shadows Floral & Gifts
Cascade Supply
Ken Bisbee
Concrete Theatre
Concrete Liquor Store
Concrete's 4th of July Photo Gallery: