Skagit Eagle Festival is a month-long celebration during eagle-watching season in eastern Skagit County. Activities usually take place in Concrete, Rockport and Marblemount every full weekend in January.  The 2021 activities and events were canceled due to Covid-19 restrictions. Please check with the organizations below to confirm the status before planning a visit.

Skagit River Bald Eagle Interpretive Center
Howard Miller Steelhead Park – 52809 Rockport Park Rd, Rockport
Learn about eagles, watershed issues, and local, natural and cultural history.
srbeatic@frontier.com
www.skagiteagle.org
(360) 853-7626
Forest Service Eagle Watcher Stations
Howard Miller Steelhead Park, Sutter Creek Rest Area (MP100), & Marblemount Fish Hatchery
Eagle Watcher volunteers can answer your questions about bald eagles, salmon and the Skagit watershed. They'll have binoculars and high-quality spotting scopes available for your use.
tkitterman@fs.fed.us
www.skagiteagle.org/viewing-sites/
(360) 854-2630
Deep Forest Experience
Rockport State Park – 51095 State Route 20, Rockport
Free guided tours
This forest tour will take you deep into the 670 acres of old-growth forest of Rockport State Park at the foot of Sauk Mountain. Tours are 30-60 minutes. Or visit the park's Discovery Center with your family for engaging activities and displays about this area and to build a craft to take home. Discover Pass required.
rockport@parks.wa.gov
www.parks.state.wa.us/574/rockport
(360) 853-8461
Skagit River Eagle Viewing & Photography Tours
Skagit River Eagle Tours
7349 Ranger Station Rd, Marblemount
Experience a premier 3-hour in their heated drift boats with high-backed cushioned seats. Reservations required.
skagitguide1@gmail.com
www.skagiteagles.com
(888) 6-SKAGIT or (888) 675-2448
Native American History, Storytelling & More
Marblemount Community Hall – 60055 State Route 20, Marblemount
Eagle Viewing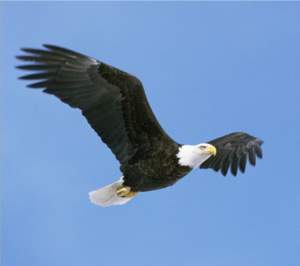 To see eagles up close, use a telescope, binoculars or a telephoto lens. Keep noise low and your movements slow.
Whenever possible, stay in your car and use it as a blind from which to photograph the eagles.
Stay away from the river's edge and gravel bars where eagles are feeding, especially between 5 and 11 a.m.
Most of the river frontage is privately owned. Use public ares along the river and be courteous to local land owners. Do not walk across private property.
Driving Tips
Adjust speed according to traffic and weather.
Watch for pedestrians: people often cross the roadways during eagle watching season.
Carry winter emergency equipment: blanket, flashlight, jumper cables, snow shovel, additional winter clothing, and abrasive material (e.g. cat litter, sand).
Be aware that cell phone reception can be unreliable in eastern Skagit County.
The Skagit Eagle Festival is funded in part by Skagit County Lodging Tax Funds.
1. Choose a weekend that's most convenient for you.
2. Check out the activities for that weekend.
3. Reserve your lodging, if you plan to spend a night or two.
4. Get ready for a great time, at your own pace!