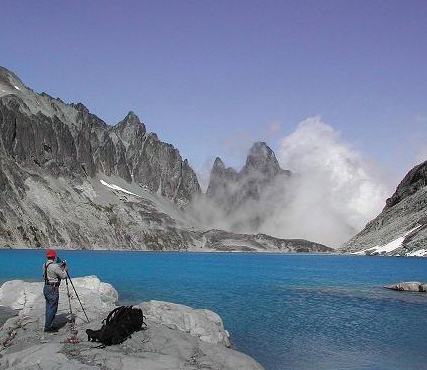 About Pat Buller, Photographer
I grew up in Marblemount, a small town in the North Cascades.  My adult life I have spent variously employed as a laborer, sailor in the U.S. Navy, welder, logger and biological technician.  I have a lifetime goal to hike into every high mountain lake in the Skagit River watershed.  The Skagit River drains an area of 3,100 square miles (4990 sq km) in the North Cascades and is the third largest river on the west coast of the lower 48 states behind the Columbia and the Sacramento.  The Skagit is also the largest river flowing directly into Puget Sound.
My interest in high lakes initially involved fishing but has since evolved into a general interest in the wild, rugged country of the mountains.  My interest in native plants began when I worked as a logger.  During the slower times, in between moments of sheer terror, I would entertain my friends by naming all the surrounding trees and logs by their scientific names which I somehow remembered from tenth grade biology (actually I mostly entertained myself by aggravating my friends by doing this).  This eventually led to an interest in plants that weren't trees and, when the company I worked for went out of business, I went back to school, trained to become a biological technician and was able to learn even more about native plants.
Phone: (360) 873-4344
Email:
westslope@frontier.com
Contact Person: Pat Buller
Address: P.O.Box 279
Marblemount, WA 98267