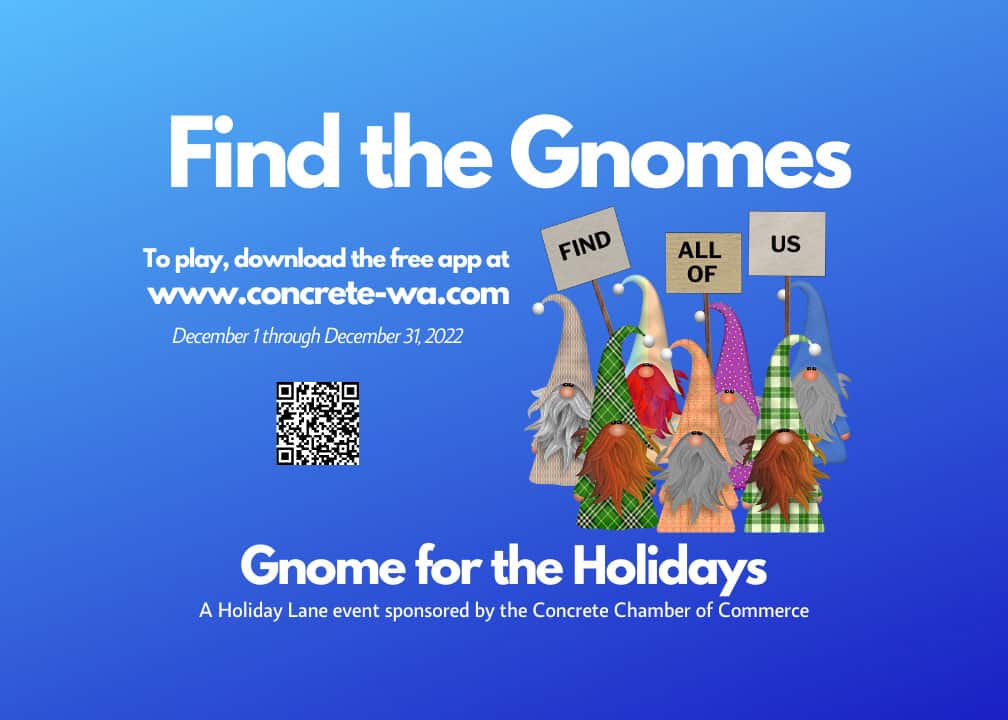 Everything you need to know for the 2022 Gnome Festival Challenge.
Welcome to the official rules of the "Find the Gnomes" Challenge in Concrete! Play the game to win prizes – including a "Staycation," gift certificates, gnome ornaments & more!
How does it work? Starting December 1, 2022, the gnomes will start appearing in storefronts around Concrete. Find all of them by the end of the month and be eligible to win a prize. Each week in December, you'll see more challenges and ways to earn more points.
1. Download the free Eventzee app to your phone. Start your account with a user name and password of your choice. You have the month of December to use the app. To enter our game use the CODE: Concrete2022


2. To complete the challenges, go for a drive or walk with your phone to capture the images, take selfies and more, as directed in the app. And keep an eye on the app for quizzes, additional challenges and special announcements. Every Wednesday we'll be adding surprises.
3. The contest ends December 31, 2022. Prizes will be awarded first week in January. Contest winners will be notified by email or phone. The Concrete Herald will publish the winners.
More details on playing the game:
Do I Need To Create An Account? Yes, you'll need to create an account using your e-mail address, a username, and a password. This will allow us to show you information about all the challenges you complete, and keep a separate record for each player.
What If I Forget My Password On the Login screen, simply tap on the [Forgot Password?] button. Enter the email address associated with your account, and tap [Submit]. You should receive an e-mail with a link to reset your password.
How Do I Join This Event? Enter the Event Code: Concrete2022
How Do I Complete Challenges? Once you've entered the Event Code, you'll be taken to the Challenge List. Tap on the Challenge you'd like to attempt and follow the instructions. Once a challenge is completed, it will move from the "Current" tab to the "Completed" tab.
How Do I Complete A Photo Challenge? Tap "Take Photo" and your device's camera app should load up. Take a photo that fits the prompt, and tap any buttons to confirm that you'd like to submit the photo. Photos will be approved by Concrete Chamber staff, so if you've submitted your photo successfully, you should see a "Pending Review" box.
How Do I Complete A Quiz Challenge? Choose the answer you think is correct and tap "Check Answer."
How Do I Complete A Text Challenge? Just type your answer in the textbox and tap "Submit."
Return to Holiday Event's Page