CONCRETE GHOST WALK 2021 – PENDING
Usually held every Saturday night in Town Center, starting at the historic and haunted Concrete Theatre. For 2021, this event is pending.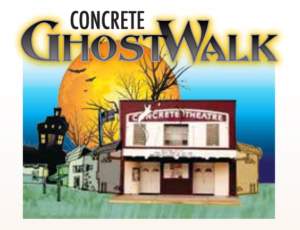 What if the Concrete Ghosts could talk?!
Wouldn't it be fun to hear about their lives, deaths, and the reason they still hang around our town?! Now you can!
You're invited to join us for a unique experience that's historical, hysterical and thought-provoking! Are these characters really haunting our businesses and buildings? What axe (eeek!) do they have to grind? Is there more to their story than we know from reading about them in the history books and newspapers? Is it safe to walk the streets of Concrete alone? Who is down that dark alley?
Learn about the characters, events and legends that have shaped our community, and you'll hear from local residents (living and otherwise) as you enjoy a tour along the haunts of our parks, alleys and buildings.
The Concrete Ghost Walk takes place every year in October — thanks to our generous and spirited volunteers from the Concrete Chamber and the Concrete Heritage Museum, as well as dozens of others in the community who support the event.
Participants must be at least 16 years old and minors must be accompanied by an adult. No kids, no pets, no babies. Sorry, no exceptions. This is not a "haunted house" activity; you'll be walking, standing, listening to stories. It's a safe, enjoyable event for adults interested in history and the possibility of spirits who hang around!
LOCAL DINING – BEFORE OR AFTER THE GHOST WALK:
Annie's Pizza Station* – 44568 State Route 20 – Open from 11:00am – 9:00pm (closed on October 20) – 360.853.7337
Cascade Burgers* – 45292 State Route 20 – Open from 11:00am – 8:00pm – 360.853.7580
Miga Asian Cuisine – 44618 State Route 20 – 11:00am – 9:00pm – 360.853.8652
Lone Star Restaurant and Waterin' Hole – 45930 Main St – Open from 7:00am – 9:00pm – 360.853.8800
For more details, please contact Ghost Walk leader Valerie Stafford.
* – denotes Chamber Members